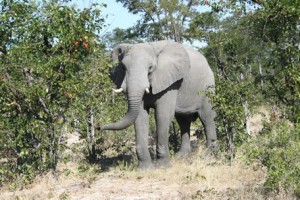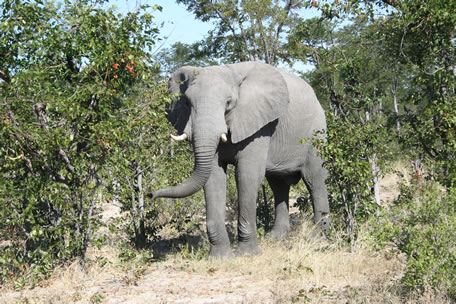 While other animal species are either on decline or showing stagnation, Botswana's elephant population is on the rise. This is according to a study titled Aerial Census of Animals in Botswana/Dry Season 2012 released on Friday.
According to the survey, observations were made on 26 animal species including buffalo, duiker, eland, elephant, gemsbok, giraffe, hartebeest, hippo, impala, kudu, lechwe, ostrich, roan, sable, sitatunga, springbok, steenbok, tsessebe, warthog, waterbuck, wilderbeest and zebra. It extended to cattle, donkey, horse, sheep and goats. Cats and predators were not included on the survey.
"As expected, the elephant population has significantly increased," the survey's executive summary declared. The survey estimated the number of elephants in Botswana at 207 545, which is a 297 % change between 1992 and 2012. Botswana accounts to 1/3 of the continent's elephant population.
The survey, which used the standard methodology for transect sampling developed by Norton-Griffith (1978), showed that a significant upward trend was observed in Chobe National Park and Moremi Game Reserve. The numbers were also building up in Makgadikgadi and Nxai Pans National Parks.
The survey results will not be good news to communities that live around the elephants as there is still a question of wildlife-human conflict as elephants kill people and destroy crops. However, Dr Cyril Taolo, the Deputy Director in the Department of Wildlife and National Parks said the country needs to take a holistic approach to elephant question rather that going the route of culling. The one suggestion he makes could be to build population in countries like Angola that were affected by civil war and also allow elephants to colonise new areas through Transfrontier Park projects.
"We need a holistic approach to managing elephants," Dr Taolo said.
Another species with a significant upward trend was the hippo. Its headcount stood at 3 633 although this species generally tends to be undercounted by aerial surveys and may not yield reliable estimates.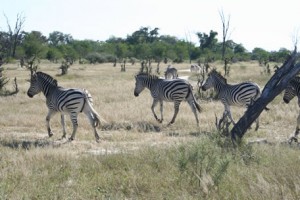 There were upward trends for all other species except lechwe (26 322), sable (1 989), sitatunga (63), springbok (35 688) and tsessebe (2 138). Those trends were however not statistically significant.
The species that raised concerns include lechwe that declined by 59 % between 1992 and 2012 while springbok and tsessebe declined by 71 % and 79 % respectively for the same period. "The decrease in lechwe numbers was highly significant in Moremi Game Reserve with a similar trend for springbok in Central Kalahari Game Reserve. Although tsessebe numbers decreased throughout its range, the trends in Chobe National Park and Moremi Game Reserve were not statistically significant," noted the survey.
"It is evident that concerns about the possible decline of some wildlife species may be valid, especially that all species except elephant and impala had a population decline in the least one Protected Area. An appropriate management response is therefore warranted and this will include further research to understand the reasons behind observed downward trends, improved monitoring of wildlife resources in community areas and concessions, improved law enforcement and strengthening of the gains of community based natural resources management".
Already, Botswana's head of state Ian Khama has announced hunting will be suspended indefinitely for the country to re-look strategies.
The survey however did not include large cats as the methodology is not suitable for such an exercise. Dr Taolo revealed that there will be a study to be done for the predators, but could not give the timetable.
"Predators are very important component of our wildlife, but this is not the best method (to survey them)," said Dr Taolo. "We are intending to take a survey in the nearest future".
Botswana has an estimated 100 + rhinos countrywide.
Compared to wildlife, livestock numbers were high throughout the surveyed area and some observations were made inside Wildlife Management Areas. In particular, cattle were estimated at 3137 477 which was more than all the wildlife numbers combined. The cattle population also represented an increase of 322% between 1992 and 2012.