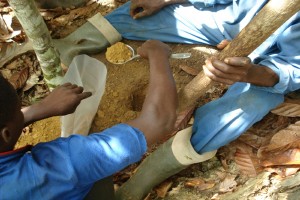 Hodges Resources Limited has announced a capital raising plan via a Share Purchase Plan (SPP) to raise up to $2,160,000. The money raised from the exercise will be used to fund further exploration, the prefeasibility studies at the Morupule South project in Botswana (including bulk sampling activities); to complete due diligence activities on the Knox projects in the USA and general working capital.
The company proposes to raise the funds with a SPP that will allow all eligible shareholders to apply to purchase between $3,000 and $15,000 worth of Shares at 9 cents per Share.
The offer price equates to approximately a 6% discount from the volume weighted average market price of Shares sold on the Australian Securities Exchange ("ASX") during the previous 5 days on which sales of the Company's shares were recorded, ending 12 March 2013.
Hodges' Managing Director, Mark Major, commented: "Following completion of the Share Purchase Plan we will be fully funded to complete the joint venture earn in at Morupule South and move the project into pre-feasibility, as well as complete the necessary due diligence on the Knox projects."
The SPP will provide eligible shareholders (being those persons registered as ordinary shareholders as at 5pm (WST) on 12 March 2013 whose registered address is in Australia or New Zealand) with the opportunity to apply for new ordinary shares in Hodges at 9 cents per share.
The offer opens on 15 March 2013 and will close on 12 April 2013. Full details of the SPP, including SPP application forms will be sent to all eligible shareholders in the coming days. Subject to demand, Hodges reserves the right to place the Share Purchase Plan shortfall with selected professional and sophisticated investors.