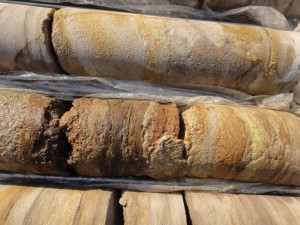 Impact Minerals said it has entered into a Sale and Purchase agreement with Sechaba Natural Resources Pty Ltd (Sechaba) and Shumba Coal Ltd (Shumba) for the sale of four non-core Prospecting Licences in the northern part of the company's Botswana Uranium Project.
The four licences: PL118/2008, PL120/2008 and PL097/ 2010 will be transferred to Sechaba for a total of US$800, 000, consisting of US$250,000 cash and consideration shares equal to US$250,000 in Shumba- a company listed on the Botswana Stock Exchange (BSE).
Impact's Managing Director, Dr Mike Jones said the sale of the four non-core assets is an excellent outcome for the company. He added that the move is also part of Impact's exploration strategy to focus on the discovery of high-grade uranium deposits hosted by Proterozonic sedimentary and basement rocks similar to those in the Athabasca Basin in Canada and the Pine Creek Geosyncline in Australia. "The Athabasca region for example produces about 20% of the World's uranium," said Jones.
Impact Minerals said the proceeds from the sale will further strengthen the company's working capital position and will be put towards the progression of the exploration at the Red Hills Prospect.
The sale is however subject to the Prospecting Rights and Ministerial approval with the purchase price due and payable in US$50, 000 cash (non-refundable) and payable upon execution of the Sale and Purchase Agreement completed. Upon the renewal of Prospecting Rights (expected within 4 months), a US$50, 000 cash will be paid. Then additional US$150, 000 cash and US$550, 000 in shares in Shumba Coal will be paid upon the Minister of Mines approving the transfer of the Prospecting Rights (expected in 6 months).
Impact Minerals added that the conditions are expected to be fulfilled on or before 30, June, 2014, or by such date as the parties may agree in writing on or before this date. Shumba which listed in April on the Botswana Stock Exchange said the listing will free capital to consolidate the company's position in the industry by acquisition of other potential mineral assets or companies holding those assets.
Impact's Botswana Uranium Project comprises approximately 30,000 sq km of Prospecting Licenses containing significant strike extensions to the host rocks found at the nearby Letlhakane Uranium Project owned by A-Cap Resources Limited