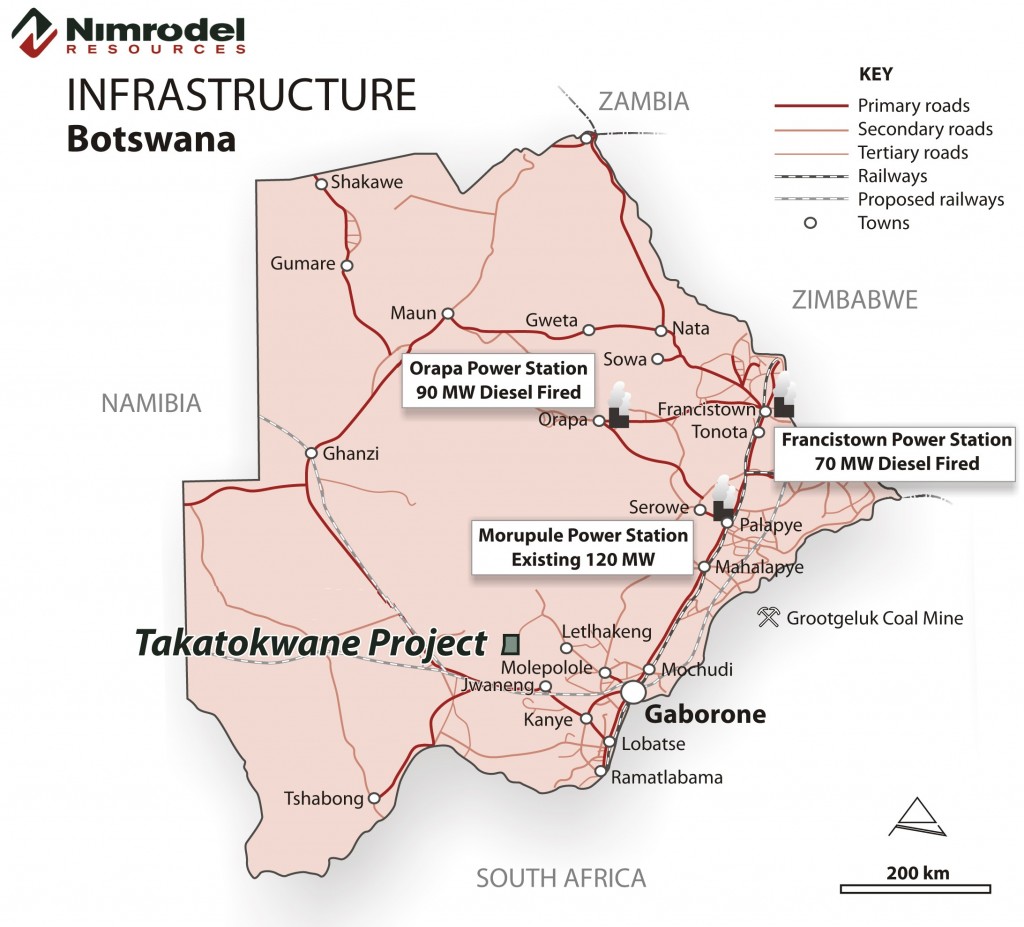 Walkabout Resources Ltd has announced the results of a technical scoping study finalised as part of the ongoing Pre-Feasibility Study (PFS) over the 7 billion tonne 2004 JORC Inferred Resource Takatokwane Thermal Coal Project in Botswana. According to the company, the mine design has focused on the Target Mining Area where 748 million tones have been classified under 2004 JORC Indicated resource.
It said the conceptual operation at Takatokwane Mine contemplates two open-cut strip mines employing drag line machinery each mining some 6 million tonnes per annum of coal. Some of this product will be upgraded through a modular two stage washing plant with three products
delivered for dispatch.
These are an international seaborne coal product at a calorific value (CV) grade of 5,500 Kcal/kg, a mid-range product at around 4,800 Kcal/kg and a power station feed of 4,200 Kcal/kg.
The mid-range and power station feed products are well suited to international and Southern African coal power producing infrastructure while the higher grade product is representative of an international seaborne thermal coal market which is rapidly adapting to a volatile supply dynamic.
Managing Director of Walkabout Resources, Allan Mulligan said it was always important that they understood the optimum profile for mining the huge Takatokwane deposit.
"We now know that we will be building large scale, open cut strip mines employing drag-lines and rope excavators that will produce coal for many years into the future," Mulligan stated.
"Similar to those planned for the Galilee Basin in Australia, these are going to be long life, stable mines that supply the emerging economies of the world with energy for generations to come. The Takatokwane complex will not be just a mining site but an entire coal mining province." The study has opted for a 12 million tonnes per annum (mt/a) production rate but this can be significantly up-scaled in modular extensions. The study also considers the ability of the project, by virtue of its location being adjacent to the TKR rail line, to move coal product both to the west to Walvis Bay and also southwards to South Africa. The Mining Study considers only the mining of wide seam 2 Upper and Lower and the overall stripping ratio is deemed to be 4.09 over the 20 year life of mine.
The principal activities completed as part of the Technical Scoping Study included:
Resource modelling by Optiro and Analytica Pty Ltd,  Water management study by Wellfield Consulting Services Pty Ltd of Botswana, Environmental management by Ecosurv Environmental Consultants (Pty) Ltd,  Logistics and Transport by Bergstan (Pty) Ltd of Botswana,  Coal washing, Mining and Engineering by B&K Project Specialists; and Overall project management by Walkabout Resources Ltd.
The development of the Takatokwane Thermal Coal Project remains dependant on the construction of suitable rail infrastructure to move the coal product. Currently, the Coal Development Unit of Botswana is managing the Feasibility Study of the TKR rail project and this project is expected to be completed by 2019/2020. The Takatokwane coal project is a key input to the viability of the TKR.
Walkabout Resources controls 67% of the Takatokwane Coal Project through two Joint Ventures with Botswana based companies.