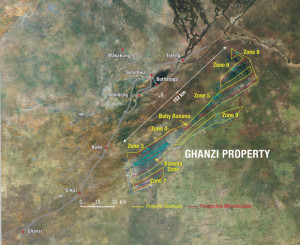 Hana Mining Ltd. says the meeting of shareholders to consider the proposed arrangement with Cupric Canyon Capital LP ("Cupric"), which was previously announced in a joint news release of Hana and Cupric dated October 24, 2012, will be held on Thursday, December 27, 2012 at 9:00 a.m. Pacific Standard Time.
Further information regarding the Meeting and the proposed Arrangement are contained in the information circular that has been filed under the corporate profile of Hana on the System for Electronic Document Analysis and Retrieval (SEDAR) at
www.sedar.com
and concurrently mailed to Hana securityholders.
All securityholders are urged to read the information circular carefully as it contains additional important information concerning the Meeting and the proposed Arrangement.Hana Mining has been exclusively engaged in mineral exploration activity in Botswana since mid-2007, specifically targeting discovery of precious and base metals.
The company has a controlling interest in Hana Ghanzi Copper (Pty) Ltd. (formerly Stellent (Proprietary) Ltd.) who in turn controls 5 prospecting license blocks in Botswana, covering 2,149 square kilometers in area, situated south of the town of Maun. The Company's single exploration project, the Ghanzi Copper-Silver Project, is located on this license area.