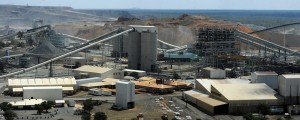 The MMC Norilsk Nickel's Steering Committee has approved Tati Nickel's action plan and its implementation is aimed at improving the performance at current price levels.
It has been revealed that to this end, as per the approved plan the company shall maintain concentrate production levels till 2016 by increasing ore output in the situation of low nickel grades.
The new plan also stipulates that Tati Nickel must reduce the cost of all operations, including those carried out by contractors by 10% and improve sales and logistics conditions.
"Tati Nickel management has already started the implementation of the action plan. Preliminary negotiations with contractors were held with positive response received. Negotiations aimed at the improvement of ore and concentrate transportation conditions to processing facilities are under way," said MMC Norilsk Nickel in a note.
"The company is negotiating better payment conditions for processed and delivered products with the processor and the buyers. Expenditures and operating costs are under continuous control."
The company is also negotiating tax incentives with the government of Botswana also interested in the work of Tati Nickel.
MMC Norilsk Nickel added that in addition, in accordance with the plan Tati Nickel will continue exploration drilling at Phoenix deposit and geological exploration of Selkirk deposit. The cost efficiency of Selkirk deposit development is under appraisal.