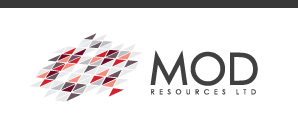 MOD Resources Limited (ASX: MOD) has announced assay results from the first drill hole (CL-02-D) to test a large magnetic anomaly in the central part of the Kalahari Copper Belt in Botswana.
The results include a number of elevated platinum, palladium and gold values over a 16m interval from 468m to 484m down hole depth associated with an interpreted mafic intrusion. The mafic intrusion appears to be the source of a distinctive ~10km long magnetic anomaly.
Individual assay results from 1m sample intervals include 68ppb and 39ppb platinum, 43ppb, 60ppb and 54ppb palladium, and 241ppb gold. A table of assay results >30ppb for each of platinum, palladium and gold is included in this release. Analysis for Pt, Pd and Au were done by fire assay.
Although the results from the 16m interval in CL-02-D (Table 1) do not include any commercial precious metal grades, they are elevated (up to 10 times) above the average values for platinum, palladium and gold in the surrounding mafic units which were intersected to the end of the drill hole.
Discussion
Considering CL-02-D is the first hole to test what is a very large and currently poorly defined target, the results provide encouragement of the potential that precious metal mineralisation may occur elsewhere within the interpreted intrusion. MOD's strategy to test for different styles of mineralisation within its extensive holdings in the Kalahari Copper Belt was outlined in the December 2013 Quarterly Report released on 13 January 2014. Photos of drill core from CL-02-D were released on 17 February 2014.
OD is now considering a range of options to progress exploration of the magnetic anomaly. These include surface geophysical surveys to help define the geometry of the source of the magnetic anomaly and to identify any conductors that may exist. This should assist targeted drilling which is expected to follow. The Company may also consider seeking a suitable party to assist with funding this program.
Summary of drill hole CL-02-D
CL-02-D is a diamond core drill hole which intersected sediments from surface to 424.3m depth. The basal ~100m of the sediment sequence comprises red hematite altered conglomerates, sandstones and siltstones. Locally anomalous Barium (up to 3190ppm Ba) occurs near the base of the sediments.
CL-02-D intersected a mafic sequence from 424.3m to end of hole at 490.8m depth. The mafic sequence has zones of epidote and chlorite alteration associated with quartz/calcite veining and minor pyrite.
Based on available information, the mafic sequence is interpreted to be part of an intrusion which has intruded overlying sediments of the Ghanzi Group. Alternatively the mafic sequence may represent altered basalts within the Kgwebe Formation which underlies the Ghanzi Group. The Ghanzi Group hosts the stratiform style of copper/silver mineralisation which is widespread in the centre of the Kalahari Copper Belt and is being mined at the Boseto Project ~60km east of themagnetic anomaly.
Summary of drill hole MO-114-D
MO-114-D is a diamond core drill hole which was drilled to test the potential for extensions approximately 50m below MOD's 100%owned Corner K deposit on PL 686/2009 . MO-114-D intersected 3m @ 0.98% copper and 28.6g/t silver from 211m down hole depth, including 1m @1.44% copper and 52.2g/t silver from 212m down hole depth.Results confirm the Corner K deposit remains open at depth and grades are in line with expectations.