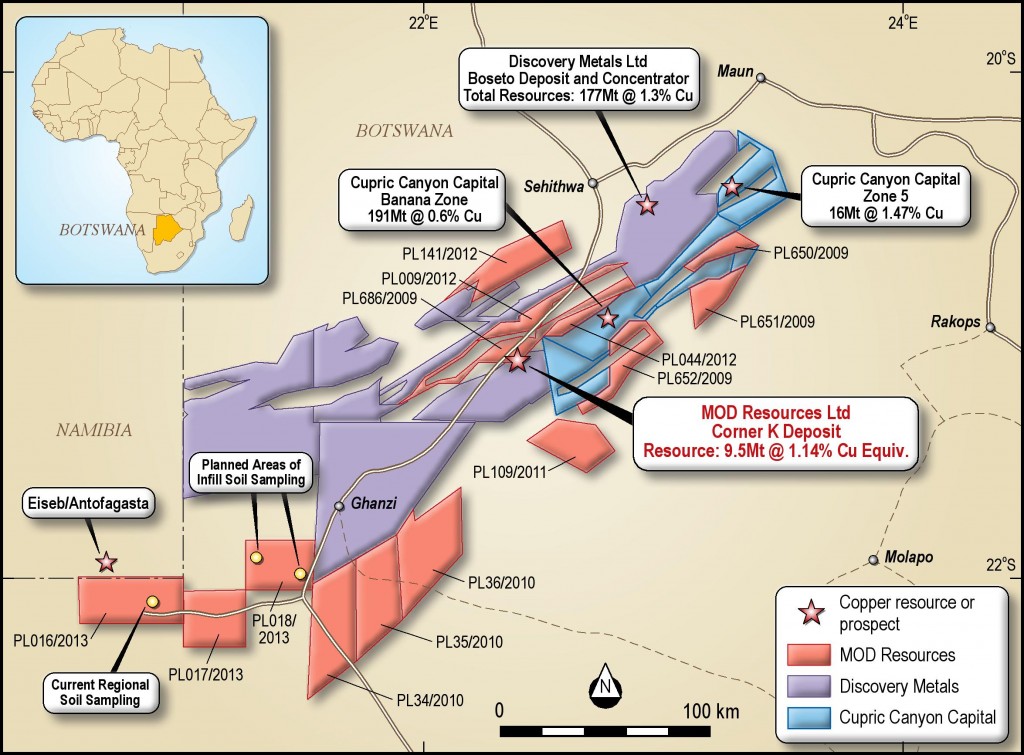 MOD Resources Limited has provided an update on the 100% owned Mahumo Project in Botswana. Details of the two >500m long high grade deposits ('West Zone' and 'East Zone') which are the focus of current work at Mahumo were announced on 16 June 2014.
Previous drilling by MOD on 100m traverses along a 2.5km strike length at Mahumo confirmed the copper/silver mineralisation continues from near surface to approximately 200m down dip and remains open below that depth.
A preliminary conceptual study is now underway to evaluate potential for developing the West and East Zones initially by shallow open pit mining. These pits could potentially provide access for underground mining, depending on future results below the current limit of drilling.
As part of the conceptual study, MOD has appointed mining consultants Orelogy to conduct an initial pit optimisation study for the West Zone and East Zone deposits using existing resource data which is based on widely spaced drill hole data on 100m sections. Orelogy has generated a series of conceptual pit shells to a maximum 50m depth assuming different ore processing recoveries and preliminary cost estimates.
The initial pit optimisation study delineated an average grade of 1.8% copper and 47g/t silver within the pit shells assuming 80% copper processing recovery. While further work (including metallurgical test work and infill drilling) is required to complete the study to a reportable standard and demonstrate the potential commerciality of the Mahumo Project, early results are encouraging.
As mineralogy is key to determining copper recoveries, MOD geologists have re-logged drill core from shallow intersections in the West Zone and East Zone deposits. This has confirmed copper/silver grades are mainly associated with disseminated and vein hosted chalcosite (transitional copper sulphides) within host sediments. Malachite and chrysocola (copper oxides) occur locally along fractures and veins. Sulphide mineralisation (chalcosite and bornite) is interpreted to occur at shallower depth at Mahumo compared with many other sediment hosted deposits in the Kalahari Copper Belt.
Metallurgical test work of drill core samples is in progress to test the amenability of the mineralisation for conventional sulphide flotation processing. This work is being undertaken by metallurgical consultants IMO in Perth with first results expected in August.
Managing Director Julian Hanna said that if the results from the proposed three stage program are positive, they should provide confidence to fast track the Mahumo Project.
"We are fortunate to work in the relatively low cost, low risk, mining friendly jurisdiction of Botswana. As a bonus, MOD's projects are located in the Kalahari Copper Belt which already has substantial mining related infrastructure. This provides the potential to develop new mines with reduced capital exposure and reduced lead times to first production."
"While MOD's priority is clearly to advance the Mahumo Project as soon as possible, we are also keen to test other high priority exploration targets (Molelo Intrusion, Marthie Prospect and Boseto West Prospect) in the middle of what we consider to be a very prospective and underexploredmetal province."
To assist funding ongoing drilling programs and related studies, MOD is seeking a suitable party to acquire an interest in the Botswana Project and join MOD in exploring and developing the Project.