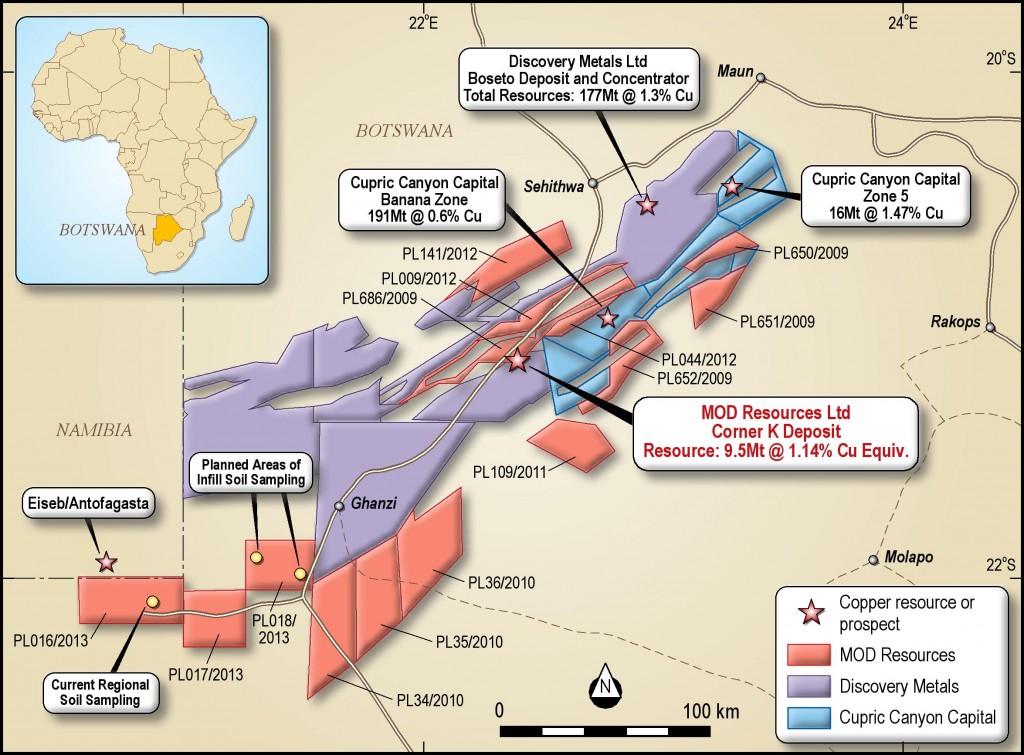 MOD Resources Limited has revealed that drilling at the high grade Mahumo Copper/Silver Project in Botswana is expected to start around 25 September 2014. The drilling program will be conducted by Orbit Drilling using two rigs sourced from Botswana.
The company said the Mahumo diamond core drilling program aims to upgrade Mineral Resource at the West Zone and East Zone copper/silver deposits, test potential for extensions below the West Zone and East Zone, between 200m to 400m depth; complete conceptual mining study with updated resource, metallurgical and geotechnical results and provide sufficient data to progress the Mahumo Project towards a scoping study level.
MOD Resources also stated a number of drill holes will also test the magnetic core of the Molelo Intrusion for potential sulphide mineralization and conduct a RC drilling to test structural targets along the copper prospective contact at the Marthie Prospect.
"Preliminary metallurgical test work on nine shallow drill hole intersections at Mahumo (17m – 60m depth) is continuing. Initial rougher flotation test work has yielded encouraging results with approximately 90% copper and 90% silver recovery, consistent with the observed mineralogy (chalcocite is the dominant mineral). Cleaner test work of the rougher concentrates is in progress."
Mahumo Project Background
Previous diamond drilling by MOD along 2.5km strike length at Mahumo defined extensive vein related copper/silver mineralisation interpreted to extend from below 5-6m of sand cover to the current limit of drilling at 150-200m vertical depth. A conceptual study is underway to evaluate potential for developing the high gradeWest and East Zones, initially by shallow open pit and potentially by underground.