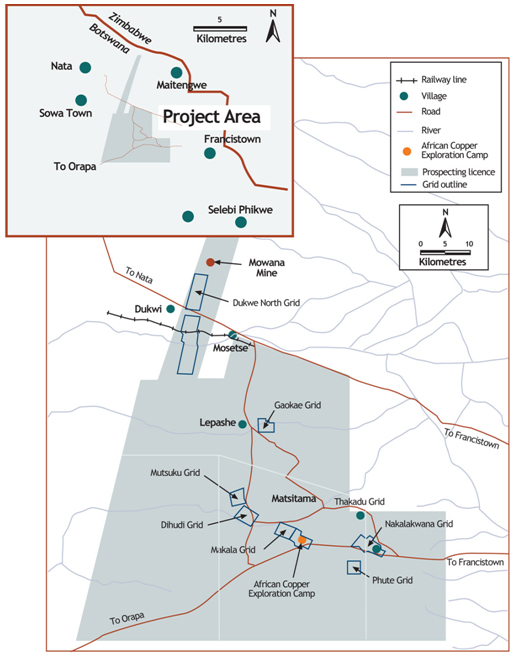 African Copper said it is conducting a review of its operations in light of the prevailing market conditions and more specifically the recent fall in copper price. The copper miner that owns Mowana and Thakadu mines, pointed out that the review will come up with a number of short and long term strategies aimed at addressing the group's current and future funding requirements.
Already, the company is implementing efficiency and cost optimisation measures to improve its liquidity position and has taken the decision to suspend waste stripping activities at Mowana open pit, with a strategy in the short term to focus on the remaining extraction of ore from the Thakadu mine.

"The company intends to mine ore at Mowana open pit that is substantially exposed from recent waste stripping activities, which will allow for copper production beyond July 2015 which is the current estimated date at which the reserves at Thakadu mine are estimated to be depleted," African Copper said in an update to the market.

"These actions give the business the highest prospects of getting through the current difficult market conditions and also a limited window of opportunity for restructuring the business for long term sustainability."
It said its board recognises the significant mineral resources the company owns at Mowana and Thakadu, on which the basis of a new life of mine plan is currently being prepared.

The company recently acquired a US$4.5 million secured loan facility from ZCI, its controlling shareholder in a bid to boost working capital position. The facility has an interest rate of 9 percent per annum with the principal and accrued interest repayable in installments from 30 April 2015 and repaid in full by 31 July 2015.
Last year, ZCI agreed to defer all principal and interest payments arising from African Copper debt obligations until December 2015, and confirmed to the company it will continue to make sufficient financial resources available to African Copper, up to a maximum of US$7 million to allow it to continue meeting its liabilities as they fell due in the course of normal operations.

"As part of this ZCI financial support, on 19 December 2014 the Group received additional financing from ZCI in the form of a term facility with a principal value of US$2.5 million. The ZCI Loan Facility, together with the US$2.5 million term facility announced on 19 December 2014 equates to the US$7 million maximum amount able to be currently drawn by African Copper from ZCI."

As ZCI owns 73.44 per cent of African Copper's total issued ordinary share capital at the date of this announcement, the ZCI Loan Facility is deemed a related party transaction under Rule 13 of the AIM Rules for Companies. As at 31 December 2014 the Group owes ZCI approximately US$100.5 million.