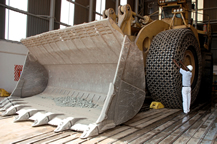 Debswana Diamond Company has alerted members of the public of a fraudulent syndicate using Debswana letterhead to offer them business opportunities.
Using an illegally generated letterhead bearing Debswana logo, the syndicate appears to have conned individuals into paying large sums as inducement for facilitation with registration and award of tenders by Debswana Diamond Company.
"The individuals or syndicates tend to meet their victims outside Debswana e.g. Debswana entrance, parking lot, shopping malls etc. to offer 'contracts'." says the company.
Debswana wishes to inform members of the public that it does not issue tenders and contracts in such public places.
"We appeal to members of the public to be on alert and not to be deceived. If in doubt, kindly visit Debswana Supply Chain Department to physically verify authenticity of any tender/contract award."
Debswana appeals to anyone with information regarding such fraud to report it to the Police.