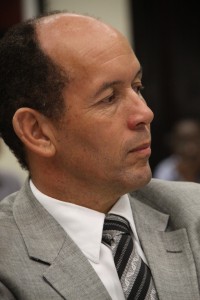 The Minister of Environment, Wildlife and Tourism, Tshekedi Khama has lauded the Debswana Orapa, Letlhakane and Damtshaa Mines (OLDM) management for its inspiring leadership with respect to Community and Sustainability, at Debswana's largest operation.
Speaking in Orapa where he met the OLDM General Manager and his team last week, Khama said "It is impressive that OLDM has done tremendously well in the areas of safety, health and community development, among others. The way you conduct business here is an example to all others, and we will magnify your achievements for others to learn and emulate for the benefit of the nation at large."
Khama warmly commended the General Manager's vision of transforming Orapa into a great place to live and work through the Orapa Today and Tomorrow project whose overarching objective is to leave an impeccable legacy for the people of Boteti and Batswana at large.
"That this project encompasses environmental conservation is highly commendable in view of the diminishing wildlife species in Botswana like in many other countries. This clearly demonstrates the consciousness that Debswana has towards the environment and the communities around its mines." he added.
For his part, the OLDM General Manager Dr Adrian Gale said his company is fully committed to safely and sustainably mine diamonds in a manner that will leverage all advantages, the Mine, the Environment and the Community in total harmony, linking mining and conservation as the way ahead. He further, commended the OLDM work-force for the zeal and energy with which they embrace their jobs, which he says is a catalyst towards bringing real value to all stakeholders.