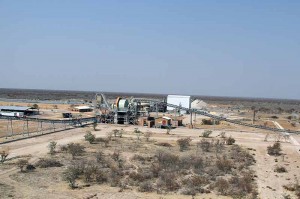 Lucara Diamond Corp. says it has recovered a 257 carat diamond from its Karowe Mine in Botswana to make it 47 diamonds recoveries this year that were larger than 50 carats. Of these, 14 were larger than 100 carats. This new 257 carat, beautiful and clear diamond, will be sold on tender in the fourth quarter of 2013.
Mining over the past 6 months has been focused on the Centre and South lobes of the AK6 kimberlite.
William Lamb, President and CEO, commented said Karowe mine continues to outperform with the consistent recovery of large, high value diamonds. "The recovery of this magnificent 257 carat diamond, along with the recovery of a significant parcel of larger stones over the past 6 months, strengthens our understanding of the resource at Karowe," Lamb pointed out.
"Revenues generated from the sale of these diamonds will be used to reduce debt and strengthen Lucara's balance sheet," he said.
In addition to the recovery of the large diamond, Lucara also closed its sixth rough diamond tender for the year where all lots were sold with very strong results. "With the challenges currently facing the rough diamond market, the demand for the high quality goods produced by Karowe has remained consistently high," said the company. The results of the sale will be reported in our third quarter results which are expected to be released in early November 2013