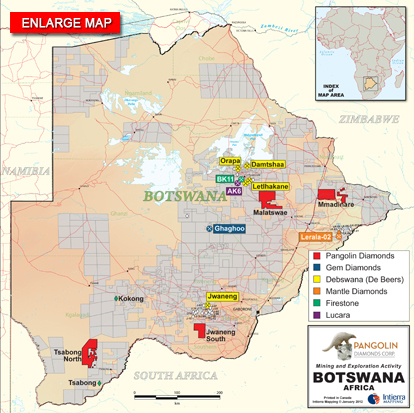 Pangolin Diamonds has reported on a second diamond positive area of soil sample results from its 100%-owned Mmadinare Diamond Project in north-east Botswana.
The company said it has discovered one additional micro-diamond and 281 ilmenite grains from 33 soil samples collected by Pangolin field teams within "Block 2" of the Project, which follows earlier sampling.
The Block 2 is targeting kimberlites approximately 60 kilometers east of the Block 1 area where Pangolin reported in an April 9, 2014 news release the discovery of a first micro-diamond in a soil sample.
Pangolin said the samples were processed by Pangolin through its Dense Media Separation ("DMS") plant, and the diamond concentrates recovered were then observed by an independent diamond and indicator mineral specialist.
The Block 2 area targeting kimberlites is approximately 2 km2 in size and is associated with a weak magnetic low airborne feature. The samples were collected on a 200 meters by 200 meters grid spacing. Individual samples are collected from the top two centimeters of the soil within a 25 meter radius of a GPS control point. In the field, soils were screened using a +2 millimeter screen mesh to remove most of the organic debris until approximately 20 kilograms were obtained.
In the Mmadinare area the -2 millimeter fraction is strongly influenced by the underlying geology. The samples were then transported from the field to the DMS facility in Francistown, Botswana for processing.
The recovered diamond, sample MC30-63, has a maximum dimension of under 0.5 millimeters and is therefore defined as a micro-diamond.
The 281 ilmenite grains, an exceptional number of grains from so few samples, will be sent for Microprobe Analysis to characterize their provenance as either crustal, kimberlitic or lower mantle in origin. The micro-diamond was recovered from a sample that also contained eight (8) ilmenite grains. The Microprobe Analysis is expected to further refine the pattern observed. The results will be reported when received in the coming months.
The high concentration of ilmenites is considered to be very significant and demonstrates a need for additional sampling and pitting of the anomalous area. This work will begin shortly.