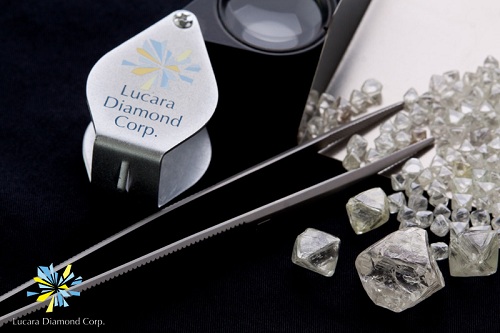 Lucara Diamond Corp. has announced the results from its first Exceptional Stone Tender of 2015. The special tender of Karowe diamonds was completed on July 16, 2015 and consisted of 14 single stone lots. All 14 diamonds, totaling 1,674 carats were sold for gross revenues of US $68.71 million (US $41,028 per carat).
The company said 12 diamonds sold for more than US $1.0 million each including 5 stones which sold for in excess of US $4.0 million each. Lot 701, the 341.9 carat Type IIa diamond (discovery announced April 20, 2015), sold for US $20.55 million (US $60,114/ct) while lot 702, the 269.7 carat diamond, sold for US $16.54 million (US $61,304/ct).
William Lamb, President and CEO said the sale is another amazing result, demonstrating not just the sustainable quality of the diamonds being produced but also the robustness of the exceptional stone market.
"The sales values achieved for the two large stones demonstrates the quality of diamonds which the south lobe is producing. We will continue to work on optimising our sales strategy to obtain the best value for these diamonds and for our shareholders."
Lucara Diamond Corp. is a high quality diamond producer from its 100% owned Karowe Mine in Botswana. The Company has an experienced board and management team with extensive diamond development and operations expertise. The company also holds a 75% interest in the Mothae Project in Lesotho which has completed a trial mining programme.