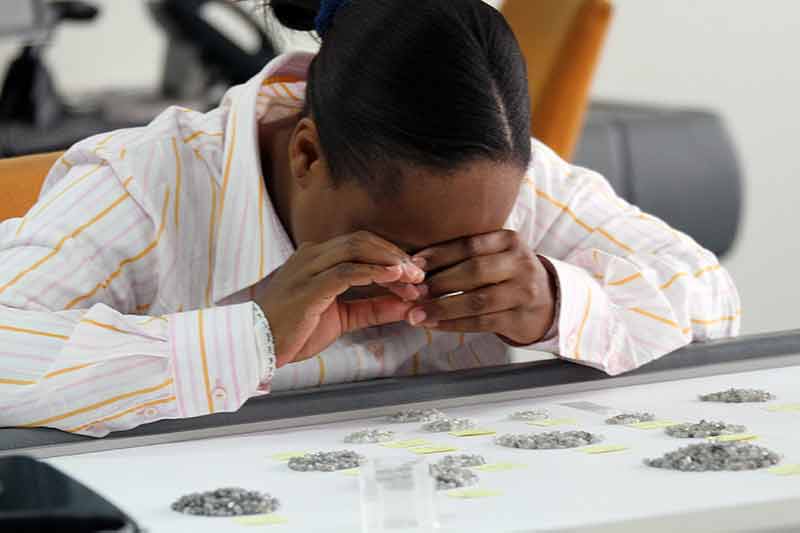 De Beers, a member of the Anglo American group said it is continuing the momentum as it recorded a rise in the value of rough diamond sales sight-on-sight.
The leading rough diamond company revealed that provisional sales in the Cycle 2 of 2016 stood at $610m, which was better than the actual sales of $545m in Cycle 1 of the year.
The rise in sales was attributed to retailer restocking following the end of year holiday season which in turn is supporting demand for polished diamonds.
"Rough diamond demand continues to show signs of improvement as excess inventory has continued to work through the system in recent months," said De Beers which recently survived Anglo American restructuring. Analysts have been doubtful on whether the diamond miner would maintain its sale momentum from January Sight.
"Retailer restocking after the end of year holiday season is supporting demand for polished diamonds and, in turn, we are seeing improved demand from the midstream for rough diamonds," added Philippe Mellier, Chief Executive, De Beers Group.
However, Mellier warned that they remain mindful of the need for a cautious approach as the recovery continues.
Cycle 2 2016 provisional sales value represents sales as at 29 February 2016 while Cycle 1 2016 actual sales value is restated following the earlier publication of a provisional figure for the first sales cycle of 2016.
Sales value is quoted in terms of sales by De Beers Global Sightholder Sales and De Beers Auction Sales, and reported on a consolidated accounting basis. Auction Sales included in a given cycle are the sum of all sales between the end of the preceding cycle and the end of the noted cycle.
Polished diamond prices firm in February
According to Rapaport, polished diamond prices rose in February continuing the uptrend evident since November. It said shortages continue to support the market while trading slowed during the month as dealers in China and Hong Kong took vacation during the Chinese New Year period.
The RapNet Diamond Index (RAPI™) for 1-carat, GIA-graded diamonds rose 0.3 percent in February. RAPI for 0.30-carat diamonds advanced 0.4 percent and RAPI for 0.50-carat diamonds grew 0.7 percent. RAPI for 3-carat diamonds fell 1.2 percent. 
RAPI for 1-carat diamonds increased 1.3 percent during the first two months of the year but remains 7.8 percent below levels recorded one year ago.
The Rapaport Monthly Report demonstrates that polished prices remained firm ahead of the Hong Kong International Jewelry Show (March 1-7). Chinese buyers are expected to return to the market for the show but buying levels are uncertain due to the slowdown in China's economy and stock market devaluations in 2016. Initial reports indicate that the Chinese New Year retail season was weak with Chow Tai Fook reporting sales fell 29 percent.
The uptrend in polished prices is being driven by shortages rather than growth in demand. Manufacturers increased their rough purchases and polished production in 2016 in order to fill shortages in the polished market. However, scarcities remain in the short-term as it takes three-to-four months for new polished production to enter the market.
Rough trading remained solid in February with De Beers and ALROSA maintaining stable prices. Rough prices on the secondary market and at auctions were steady, increasing in some categories. De Beers rough sales rose significantly in the first two months of 2016 after sales slumped 54 percent to just $1.4 billion during the second half of 2015.
There has been some restocking of inventory among manufacturers in January and February, but rough trading is expected to slow as new polished supply enters the market in the second quarter, while polished demand is expected to remain sluggish.
Martin Rapaport, Chairman of the Rapaport Group, issued a cautionary statement regarding the impact of increased supply on polished prices.
"The recent surge of rough diamond prices on the secondary market is dangerous and unsustainable. Current polished price levels reflect artificial shortages created by a 42 percent decline of rough supplies in the second half of 2015. Production is now normalising which will soon significantly increase polished supply while overall demand remains weak," Rapaport said.