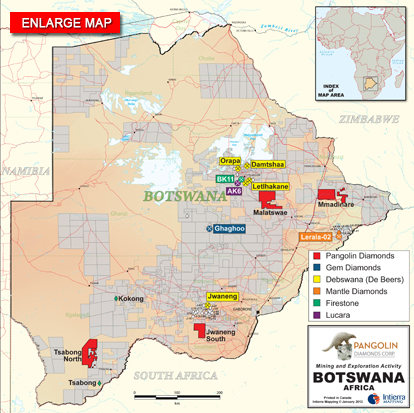 Pangolin Diamonds Corp. has announced the closing of a non-brokered private placement financing for aggregate gross proceeds of $693,453. According to the company, the financing will enable the company to continue the exploration programme, inclusive of drilling, at its priority Malatswae Diamond Project during 2016.
"The initial focus will be on exploration grids where diamonds have been reported from surface samples. In addition, the funds will add to Pangolin's working capital position to continue its exploration commitments at its other 100% owned diamond projects in Botswana," the company said in a stock market filing.
"The Offering consisted of 13,869,060 units of the company at a price of $0.05 per Unit. Each Unit consists of one common share in the capital of the company ("Common Share") and one Common Share purchase warrant ("Warrant")."
Each Warrant entitles the holder thereof to acquire one Common Share at a price of $0.05 for a period of sixty (60) months from the date hereof. Insiders of Pangolin participated in the amount of $101,600 representing eleven Percent (14.7%) of the total offering.
The financing was facilitated by Aberdeen Gould Capital Markets Ltd., a Toronto based Exempt Market Dealer. Aberdeen has waived its seven percent (7%) cash fees of $31,500 in lieu of fully paid $0.05 Units equal to seven percent (7%) of the total Units, as well $1,750 was waived from the other finder on the same terms. In aggregate, 665,000 Units were issued in lieu of cash fees to the finders. These Units were issued based on the same terms and conditions from the Offering. No cash fees were paid or finders warrants issued.
The Offering is subject to the final acceptance of the TSX Venture Exchange, and all securities issued pursuant to the Offering are subject to a four month and one-day hold period.