Lucara Diamond Corp. said operational performance at its key mining operation in Botswana beat forecast in the first half of the year. The Botswana Stock Exchange (BSE) listed diamond mining company stated that both ore and waste tonnage mined at Karowe Mine was ahead of what was anticipated for both for second quarter and year-to-date with ore mining remaining concentrated in the South lobe.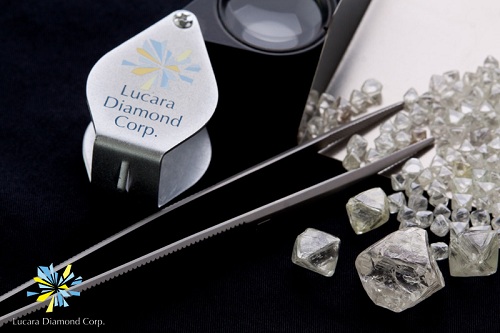 "The process plant has performed well during the second quarter and year to date with tonnes processed ahead of forecast and carats recovered in line with expectation," said the company as it announced performance update for H1 2016. "For the first six months of 2016, Karowe has recovered 340 special stones (+10.8 carats) including 12 stones over 100 carats."
Lucara said the project to increase the top size of diamonds recoverable by the existing Large Diamond Recovery circuit is well advanced with specialised equipment in fabrication and commissioning on track for end of Q3 2016. The Mega Diamond Recovery project is on schedule and currently in detailed design stage with procurement of long lead items complete.
During the period, Lucara achieved revenue of $191.4 million (H1 2015: $67.8 million) or $1,233 per carat yielding an 89% operating margin or $1,094 per carat for H1 2016. However, the revenue excludes $8.3 million of proceeds received post end of Q2 for the company's June tender.
The company said the revenue is higher compared to the previous year due to the sale of the 813 carat Constellation diamond which sold for $63.1 million ($77,649 per carat) and an exceptional stone tender which was held during the second quarter compared to the third quarter in 2015.
Lucara President and Chief Executive Officer, William Lamb said the company's consistent recovery and sale of high quality stones demonstrates the strong cash generation from the Karowe mine which translated to the Company achieving a significant cash balance at the end of June.
"Our commitment to reward our shareholders based on our results, while maintaining a robust balance sheet for future growth resulted in the Company announcing an exceptional special cash dividend of CA$172 million in addition to our regular dividend this year," Lamb said.
"We remain focused on advancing our growth opportunities while continuing our dividend policy for our shareholders to share in the continued value recreation of the company".
Operating guidance
The Company continues to forecast revenue between $200 million and $220 million for the year ending December 31, 2016, excluding the sale of the Constellation, which sold for $63.1 million. Lucara said it continues to hold the Lesedi La Rona in inventory as at June 30, 2016 and is currently considering options for its sale.
Karowe's operating cash costs guidance has been decreased for the year from between $33.50 to $36.50 per tonne of ore processed to $29.0 to $31.0 per tonne ore processed. The reduction in cost guidance is due to the depreciation of the Pula compared to the US dollar, power and general cost savings. The mine continues to forecast between 2.2 to 2.4 million tonnes of ore processed, producing over 350,000 carats of diamonds in 2016.
Ore mined for the quarter is in line with previous guidance of between 3.0 and 3.5 million tonnes and waste mined is expected to be between 13.0 and 14.0 million tonnes.
Capital and exploration guidance
The Company continues to be forecast between $15 million and $18 million for the modifications to the existing Large Diamond Recovery ("LDR") circuit and the installation of a Mega Diamond recovery ("MDR") circuit. The Company's $11 million guidance for 2016's sustaining capital expenditure, which includes a mill re-liner at a cost of $1.5 million and an investment of $1.5 million for a combined sales and administrative office in Gaborone, remains unchanged.
The Company maintains its forecast to spend approximately $3.7 million for deep drilling in the south lobe of the AK6 kimberlite, with the goal of converting inferred resources below 400 metres depth to an indicated resource. An exploration budget of up to $7.0 million is maintained for advanced bulk sampling and drilling work at the Company's two Botswana prospecting licenses.
The USD/Pula guidance foreign exchange rate is 10. The USD/Pula foreign exchange rate for H1 was 11.1.