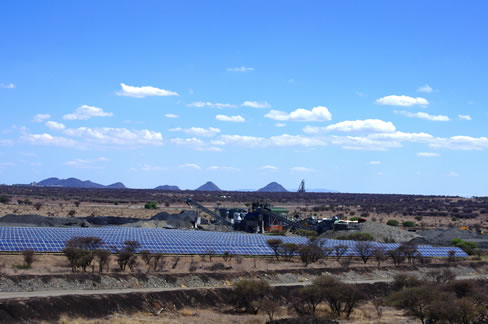 Cronimet Mining Power Solutions is targeting the Botswana mining sector and will use its experience from a photovoltaic (PV) powered mine it operates in South Africa as an example.

Many mines in the country rely heavily on the Botswana Corporation (BPC) connections and when they are off-grid, they normally generate their own power, which becomes a major cost to these companies.

"The supporting arguments for PV in the mining sector include the fact that PV is more cost effective today than it was just few years ago due to improved technology and a mature global supply chain," Rollie Armstrong , Managing Director of Cronimet told Mining & Travel Review.
Cronimet is confident that there are a number of forces now aligned making renewable energies, specifically photovoltaic (PV), a valuable proposition for mining and industrial companies in Botswana. 
The company says it engineers, procures and constructs (EPC) projects on its balance sheet on behalf of their clients thereby saving these companies large amounts of money annually.

"PV solutions can have mining companies break even in a shorter period of time compared to diesel," stated Armstrong, adding they could build a plant in a period of 4 months. Armstrong revealed that a decentralised PV can be installed and producing energy in a matter of months adding that his company offers innovative asset financing structures to fund the delivery of PV power plants.
He added that Cronimet Mining Power Solutions offers innovative asset financing structures to fund the delivery of PV power plants.  "In commercial terms to mining companies, solar PV replaces up to 30% of a mining company's annual diesel consumption if that mine relies on
captive diesel genset mini-grids, which means is not connected to BPC's grid," he said.
Cronimet operates the Thaba chromite mine-located in the Limpopo province. The mine was originally powered by diesel.
He added that a PV power plants offer a natural energy hedge, as nearly 100% of the power generated over 20 years is paid for up front. The sun, which is a free renewable resource, is not exposed to price inflation as is a liter of diesel fuel or a kilowatt of electricity from BPC's centralised grid.
"If PV is competing with diesel PV offers an immediate and material discount to fossil fuel, while the breakeven on the upfront installations costs occur in just a few years".