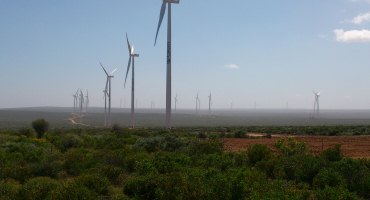 Eskom said the construction of the Sere wind farm reached new heights this week with the energising of the transformers of the first string of seven wind turbine generators, a move that paved the way for the company to proceed with the final commissioning of these turbines.
Sere wind farm is South Africa's power utility company's first large-scale renewable energy project, and forms part of our commitment to renewable energy and reducing our carbon footprint.
Eskom's Senior General Manager for Renewables, Ayanda Nakedi, said last Friday (10th October 2014) we synchronised the first seven wind turbines to the national grid, adding 4.4MW as part of the final testing and commissioning process.
"The achievement of this milestone is in line with our target date of December 2014 and we remain on track to be in full commercial operation by end March 2015".
Wind conditions have been favourable, and this past Monday (13 October 2014), the Sere wind farm was contributing 15.7MW to the national grid.
Once completed, the plant will add 100MW to the national grid and contribute to saving nearly 6-million tons of greenhouse gas emissions over the 20 years expected operating life, with average annual energy production of about 298 000 MWh, enough to supply about 124 000 standard homes.
The R2.5-billion wind farm will also help diversify Eskom's energy mix and contribute to South Africa's objective of meeting 42% of the country's power demand with renewable energy sources by 2030.
Eskom CE Tshediso Matona sent thanks to the entire team for enabling us to reach this most significant of milestones. "This milestone has been achieved through close co-ordination between various departments in Eskom and our contractors. This is evidence of what we can achieve as an organisation when we work together. I am sure that the team will continue with the same drive and commitment until all 46 wind turbines are in operation."