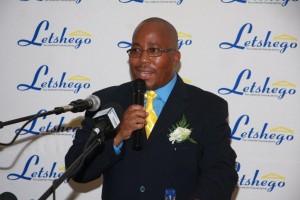 Letshego Financial Services has donated over P700, 000 to a variety of charitable organisations in a kind gesture demonstrating its interest in the community in which it operates and draws its employees.
Speaking at the Letshego Annual Donation Dinner, the Vice President Dr. Ponatshego Kedikilwe noted that this act of generosity was highly commendable. He said that Government was appreciative of efforts by its partners in development to transform the nation into one of shared responsibilities, shared opportunities and indeed a shared sense of community.
"It is against this background that Government will always be greatly indebted to the business enterprises which are increasingly taking the initiative to create new solutions to solving social problems," said Kedikilwe. "In a nutshell, the donations by Letshego Financial Services, amounting to half a million Pula or 700 000 Pula,  will in no small measure leave a lasting impression, not only to the beneficiaries, but  the nation at large."
He added that By end of this year, it is anticipated that Letshego, as  a Group of companies would have  provided funding amounting to over 2.6 Million Pula under its corporate social responsibility (CSR) initiative, to various projects across 11 countries in Africa, the bulk of which would be spent in Botswana. With a total loan book of 1.5 Billion Pula, the company has become the market leader within the micro lending industry in the country.
In praising the company, Dr. Kedikilwe said "It is gratifying to note that this annual event has transformed the lives of many Batswana through donations to various non-profit making organizations that are working with the less privileged, the disabled, orphans, sickly, depressed and others who may be negatively affected by certain life situations. As we hand-over these donations, we are conscious of the contributions that the beneficiaries continue to make within the country, and we believe that through support from great friends like Letshego, they will remain resolute and more inspired to provide an invaluable and noble service to the nation."
Speaking at the event, the CEO Mr. Fred Mmelesi highlighted that the donation dinner was an important day in the Letshego calendar as it marks a time when we pause from our routine activities to reflect on reality that whilst all animals are equal, some are more equal than others, and remember the less privileged members in our society.
Acknowledging the unwavering loyalty of the communities that they have been working in for the past 14 years, Mmelesi said to reciprocate this allegiance, Letshego has made a commitment to be part of the community, be sensitive to its morals, values and reach out to the needs and wants of these communities through financial assistance.
He informed guests that Letshego Botswana's corporate social responsibility guidelines were guided by the group policy on CSR and that when rolling out the CSR plan, the subsidiary further derived guidance from the company's values, and core to this area are the values of professionalism, integrity, respect, selflessness and customer service.
The CEO highlighted that the criteria used to assess the projects to fund was within of the areas of focus as prescribed by the Group Social Investment Policy which include: Development of Music and Art; HIV/AIDS; Employee Involvement; Welfare and Poverty Alleviation; Children; Education and Sports Development.
"Letshego is blessed to employ compassionate staff that has the welfare of less privileged at heart. Through an annual "Make A Difference" Day, Letshego staff engages on various projects countrywide directly assisting the less privileged to make a difference in their lives because we fervently believe that charity is more than giving money to the poor. It is the giving of our hearts, time, talents and energies to lighten the lives of others, rich or poor."
Letshego continues to affirm its unwavering support to the welfare of the orphaned and vulnerable children (OVC) as you may be fully aware that children are the most vulnerable to denial of rights as well as abuse, and any society that does not invest in caring and safe development of its children is negligent of its future. This category perhaps marks Letshego's softest spots as evident from the number of recipients that fall under this category.'
Letshego heard about the accident, thanks to The Voice, and has since adopted him. Bob Jack has conducted the first reconstructive face surgery at Bokamoso, courtesy of Letshego, he now attends school at Legae Primary School in Gaborone. His tuition, medical expense, clothing, accommodation, food and incidental expenses are all taken care of by Letshego. This is nothing but an effort to make a difference in the life of an individual, and touch one life at a time, with the hope to save the world. Yearly, Letshego spends approximately P60,000 on Bob Jack, and this shall continue until he is no longer a minor."
"Your Honour, with those areas of focus in mind, this evening we shall extend our assistance to a total of eleven (11) non-governmental organizations, each of which will have a share of the BWP 773,000.00 cake. Guided by the project proposals, the organisations have been funded as follows: Childline P100,000.00, Lifeline P98,000.00, Cancer Association of Botswana P90,000.00, SOS Serowe Village P35,000.00, House of Hope Trust P46,000.00, Lephoi Centre for the Blind P31,000.00, BOSASNet P100,000.00, Otse Community Home Based Care Trust P100,000.00, I Am Special Education Society P35, 600.00 Masiela Trust Fund P100,000.00, Gamodubu Child Care Trust P32, 000.00, and University of Botswana Finance Society P5,000.
These donations are among the many donations made by Letshego during the course of the year. We have as well donated and assisted primary and secondary schools, teachers associations, societies and clubs, and these combined to approximately P200,000.00."