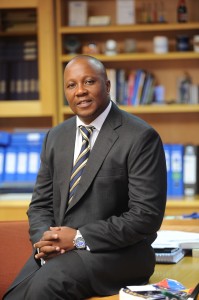 Standard Bank, also trading as Stanbic Bank in selected African countries, has been awarded the prestigious Global Finance award for 2013 Best Foreign Exchange Provider in Africa.
Standard Bank was also named the Best Foreign Exchange Provider in four African countries, namely South Africa, Nigeria, Botswana and Zambia.
SJ Kok, Standard Bank's Head of Global Markets Sales in Africa, says the awards serve as recognition of Standard Bank's status as Africa's leader in the provision of foreign exchange services. He says Africa continues to be at the core of Standard Bank's growth strategy and to play a leading role in local market development on the continent.
"The Global Finance awards are further testament to Standard Bank's expertise in foreign exchange across Africa and demonstrates our commitment to the continent and international trading partners," says Mr Kok.
"Winning the awards is particularly significant because they reflect Standard Bank's success in investing in the development of on-the-ground banking capabilities in various African markets. Being successful in providing foreign exchange services requires so much more than an intention to expand into Africa. Standard Bank is delivering successfully because the bank has invested not only funds, but many years in steadily building our African presence and capabilities."
Standard Bank is not only the leading foreign exchange provider in its home market of South Africa with a 30% market share, it also has a network that spans 18 countries in Africa and 13 countries outside of Africa. The group has more than 1 000 branches on the African continent and is present in key global financial centers as London, New York and Hong Kong.
Standard Bank also has the ability to provide foreign exchange pricing in 40 of the 54 African countries and to provide foreign exchange settlement and capabilities in 22 other countries where it has no presence.
"Standard Bank's African roots and physical onshore presence enable a deeper understanding of local market dynamics and the various regulatory frameworks within which we operate. This also enables Standard Bank to provide local market solutions that differentiate our offering from others, as we leverage our trading capability in these markets," says Kok.
"In the foreign exchange business, Standard Bank's risk appetite in Africa is a true differentiator," Kok says.