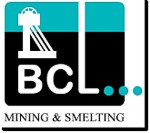 BCL Limited has recently completed and handed over two facilities to NICO United FC. More than P1.Million was used to construct these facilities.
The completion of these facilities, being the Administration Office Block and the teams change houses is a landmark fulfillment and testimony of a long-term relationship BCL Mine has had with NICO United Football Club over more than two decades. These facilities are one of the many services BCL provides to the Selebi Phikwe based premier league club to enable it to compete in the top flight football league and maintain professional standards.

These facilities, constructed in 2012 and handed over at the beginning of 2013, are located at NICO FC football grounds located near the BCL Mine site.

The construction of these facilities and the association of BCL Mine with NICO FC is central to a strong and effective BCL's Corporate Social Investment (CSI) programme. It also demonstrates the company's intention to live the ideals of National Vision 2016. Moreover, BCL slows its commitment to develop Sport in Botswana.

The Office Block comprises of the Team Manager/Coach's office, Administrator's office, Storeroom, Rest rooms, Kitchen and Conference room. The building is fully equipped and with all offices and meeting room air conditioned. Other amenities in this building include internet, telephone and presentation projector and screen for team presentations and tactical theory tests, whereas the change houses contain home and away change rooms, referees change house, ablutions for spectators and wash rooms.
The administration office will enable Nico United to improve on its administrative work and overall running of the club.

Elijah Chikwanda, Nico United FC Head Coach described this gesture as giant contribution that will assist the team to plan and review their activities. He indicated that holding club meetings in restaurants and other meeting halls is expensive and in some instances interrupted as the times allocated would have lapsed.

BCL has a sponsorship agreement with the club in respect of the Be Mobile Premier League. It assists the club financially to cover team regalia, transport, and team accommodation among others.

The partnership enables Nico United FC to aggressively compete in the premier league and provide alternative way of recreation and entertainment through football.