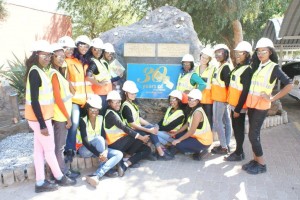 As part of winning the converted title of Miss Botswana 2013, the front-runner of the national pageant will receive sponsorship from Debswana Diamond Company amounting to P127 657.
This consists of cash amounting to P104 000 which will go towards procuring air tickets for Miss Botswana, her Chaperon and the Director. The main aim of the sponsorship is to ensure Botswana gets represented at the Miss World 2013 Pageant to be held on 28th September in Indonesia.
In addition to the sponsorship, the Miss Botswana Top 16 finalists were taken on a tour of Jwaneng Mine where they were educated on diamond mining and Debswana's contribution to Botswana's socio-economic growth since its inception in 1969. The beauties were then quizzed to demonstrate their understanding of the diamond business and its contribution to the country's development as prospective ambassadors of this country at the world pageant.
The winner of this quiz will be announced at the grand finale slated for this coming Saturday and will be crowned the "Diamond Girl". The Diamond Girl competition is Debswana's initiative that was inaugurated in 2011, whose purpose is to educate the finalists on the diamonds for development story. The winner of the quiz will walk away with a diamond necklace and earrings valued at P23, 657.
When commenting on this collaboration, Debswana Group Public and Corporate Affairs Manager Esther Kanaimba-Senai said, "we value the partnership we have with Miss Botswana as it affords us an opportunity to raise awareness of the role diamonds have played in Botswana's economy as well as afford the winner of the quiz an opportunity to own diamond jewellery.
It is our wish as Debswana to see this beautiful product of ours directly consumed by as many Batswana as possible through the ownership of at least one item of diamond jewellery. Through this partnership with Miss Botswana which is now in its third year, we hope to take diamond jewellery to the people".