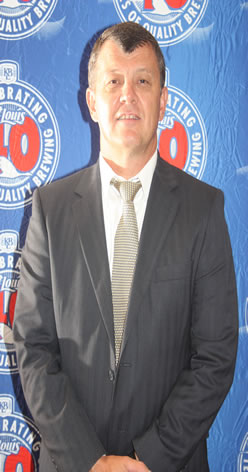 Kgalagadi Breweries (Pty) Limited (KBL) will this year celebrate 40 years of the brewery's existence with a series of activities that consumers and stakeholder can enjoy as they look back at their journey and prepare for the future.
Headlined by St Louis Lager, Botswana's first home grown beer, the celebrations kicked off with a gala dinner at Gaborone Sun Hotel where invited guests; including employees, customers and the media were among invited guests.  The dinner provided an opportunity for KBL to share with its partners the journey from its time of inception to the huge business it regarded today.
Commenting on this journey, KBL Managing Director Johan De Kok noted that, "40 years ago a group of investors conceived an idea to brew for the first time in Botswana, beverages that had previously been a preserve of the privileged few, and make them accessible to Batswana. They saw an opportunity and acted on it at the time and created the first fully integrated brewery, trading at the time as Prinz Brau. At the time there were only two beers produced, namely Prinz Brau and Prinz Deluxe available in two packs".
De Kok highlighted  that as most new businesses, this establishment faced challenges and by the late 1970's, a keen brewer in the form of SABMiller took interest in what they saw as a potential gem that could change the economic landscape of Botswana. The decision was simple, he said "buy the promising business and turn it into a thriving blue chip company that Batswana can be proud of. With it came the addition of Lion, Castle Lager, Ohlsson's, Hansa and Castle Milk Stout offered in 4 packs. The brewery would later launch the first indigenous beer; St Louis Lager in 1989, before acquiring Segwana Liquor Distributors in 1991 and commissioning the Sparkling Soft Drinks plant in 1995".
De Kok thanked the employees and the customers whom he credited with the successes achieved over the past 40 years, noting that "very little of what we see today could not have been possible without the hard work of our employees and the unwavering support we continue to receive from our trade partners. As we face the uncertain future, let us continue to make these relationships work and to commit to seeing the next forty years filled with prosperity for Batswana" he stressed.
Explaining the exciting events planned for consumers, KBL Marketing Manager for Alcoholic Beverages Thabiso Botlhole highlighted that as the first indigenous beer brand, St Louis Lager will headline all consumer related activities; with the first being a roaring concert featuring American R& B sensation Joe Thomas. He explained that some lucky consumers will stand a chance to win a ticket valued at P700 when they buy two six packs of St Louis Lager to share with friends. We will conduct weekly draws from 31 May 2013 on local radio stations to give away the tickets to the lucky consumers, said Botlhole.
There will also be over-the-counter ticket sales priced at P700 for a regular ticket and P1500 for a VIP ticket which includes a three-course meal and front row access, he said. The show will be held at GICC on July 6th 2013 and the limited tickets will go on sale from May 24th.
The second phase of the celebrations will kick in mid-July where consumers will participate in the 40/40 Cash Bonanza promotion. Explaining the promo, Botlhole said "consumers who buy a St Louis Lager at participating outlets nationwide will be given an opportunity to win cash up to P40 000 per consumer. Upon purchasing a St Louis Lager on activation day, consumers will enter a money vault designed for the promo and catch as much money as they can in 40 seconds. We are very excited about these achievements and what better ways to share them than with activities that benefit consumers.