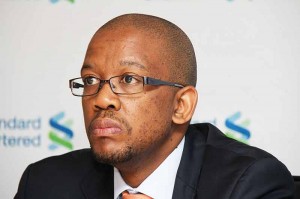 The sale, which has been launched under the theme 'BIG 5 Sale', is a first of its kind in Botswana. Speaking at the launch, Duncan Woods, Head of Consumer Banking said 'We are very excited about the launch of the BIG 5 Sale and look forward to providing our customers with value added financial solutions. We realize that our customers at times experience financial challenges and by offering them discounts on selected Bank products, we will cushion them against the hyper inflationary environment.  Standard Chartered Bank is committed to providing tailored financial solutions to its customers.  The BIG 5 Sale promotion will run from 1st June to 31st July".
The products under the BIG 5 Sale are; Mortgage Loans, Personal Loans with Salary Account, Credit Cards, Auto Loans and Savings products. These were selected   because of their benefit in improving the livelihood of customers given that the products revolve around customers' life style. "We take cognisance of the fact that shelter is a basic human right and hence we encourage our customers to own rather than rent the house they live in, we will be charging 0% commission on our Mortgage products during the Big 5 Sale promotional period. Mortgage commission is a percentage of the property value and can be as high as P5 000.00 hence this will be a huge saving to our customers. We therefore implore our customers and the investing public at large to come in and apply for this product" said Duncan Woods.
"We will be offering cash back to customers who apply for Credit Cards, Personal Loan and Current Account upon approval during the promotion. We also guarantee to open your current account within 30 minutes and process your personal loan within 3 days" said Duncan Woods. "To encourage our customers to save more, we will give cash to every customer who opens a Tema Savings Account during the campaign period while customers who take an auto loan will enjoy the best interest rates in the market for auto loans".
The bank recently launched Tema Savings and re-introduced Auto Loans as part of its on-going effort to provide one-stop shop to cater for all the customer's banking needs. Tema Savings allows customers to save on a more regular basis thus embedding a savings culture in Botswana. Tema Savings Account comes with a Debit card giving the customer the freedom and convenience to access their cash through the bank's wide ATMs. As an added bonus and to reinforce the savings culture, Tema savings does not attract any bank charges as long as the customer maintains the minimum balance. The account has a standing order facility for the convenience of the customer to have monthly savings going into the account without having to physically visit the branch to deposit funds into this account.
Duncan Woods added that "the banking landscape is fast changing, and at Standard Chartered Bank, we will continue to look for innovative ways of meeting our customers' needs".  "We recently re-introduced auto loans in response to our customers' needs"   He added that Standard Chartered Bank continues to lead the pack in innovation;   "We were first in the market to launch Pin & Chip credit cards and to offer extended banking hours and other solutions such as Salary Advance, Free Online and Mobile banking".  "We are also the first and only bank in the market offering service guarantees for Current and Savings account opening and for Personal Loans turnaround times. In addition, we are the only bank where customers can register themselves for internet/online banking without having to visit a branch. The customer simply needs to go onto our website and it will take just 2 minutes to register".
"The SME segment is of strategic importance to the Bank, and we are pleased to announce that the Business Online Banking (Straight2Bank) campaign will also be running concurrently to the BIG 5 Sale campaign. We are offering large discounts at 50% for all Telegraphic Transfers and RTGS transactions. We have the quickest turnaround times with remittances going to South Africa taking less than 24 hours, said Duncan. We are aggressively pursuing our growth strategy which is anchored on our digital aspirations. Digitalisation will therefore play a pivotal role in delivering to our strategic objectives".