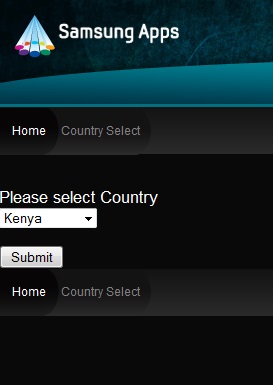 Underpinning Samsung's status as category leader in content and services for Africa, the company's lifestyle content micro site offers a multitude of downloads for its consumers.
"Samsung's reputation as a builder of solid ecosystems in this category is the result of the company's focus on anticipating and proactively meeting market needs. We invest a great deal of time and money into carefully researching the content and services that best satisfy our consumers.
We are determined to make the user experience as satisfying and wide ranging as possible, and we feel we have achieved this objective with the enhanced lifestyle content site offering," said Thabiet Allie, Head of Content and Services at Samsung Electronics Africa.
This one-stop destination for completely legal and reliable lifestyle content affords consumers the convenience and assurance of superior downloads. "We believe that the basket of offerings on the m.africa.samsungapps.com micro site provides a varied and comprehensive choice for our diverse consumer base. Adding to the benefits is the fact that all downloaded content is free; the only cost involved is the data download charges from the Internet service provider," Allie noted.
Samsung understands that in many cases, the mobile device may be the consumer's first point of contact to the Internet, so accessibility has been enhanced. "Because this is a WAP site, anybody who owns a Samsung feature phone is able to capitalise on its benefits.
High levels of security provide the assurance that any downloads conducted will not compromise the privacy or safety of the phone user," added Allie.
With an emphasis on a smarter life for all, Samsung has pulled out all the stops and developed a truly integrated and high-end lifestyle content service for consumers. This content-rich micro site offers free games, weather, news, sports, music, entertainment, videos, animations, wallpapers, ringtones and much more.
The lifestyle content facility is currently available in South Africa, Nigeria and Kenya. "However, we are cognisant of the fact that this value-added service has attracted attention from other African countries and we are currently rolling out the offerings to Ghana and Angola. This will be followed by an identification of market needs and the launch of the lifestyle content micro site in other African countries where relevant," said Allie.
"Integrity and quality of content is critical to our consumers, so we are driven to seek and supply reliable services that will enhance the customer experience. Samsung feature phone users are encouraged to capitalise on this free service".