Headline inflation dropped sharply to 6.1% y/y in May from 7.2% y/y in April following declines in most group indices. Inflation has been on a sharp decline from 7.6% y/y in March to 7.2% y/y in April mainly due to base effects as large increases that were affected last year falls away.
Positive exchange rate movements between the Pula and the Rand, generally stable fuel prices on the international market and subdued inflationary pressures domestically and internationally have also contributed to lower inflationary pressures. Inflation in the major developed economies is forecast to remain below 2% during 2013 and 2014, while in South Africa inflation is forecast to remain within the country's inflation target range of 3-6%.
Subsequently, the 'food component' (22% weight) dropped sharply from 6.1% y/y to 5.6% y/y during the month.  Other notable declines were in the 'alcoholic beverages' group which fells sharply from 12.4% y/y in April to 10.8% y/y in May as the impact of last year's increase in the alcohol levy falls away.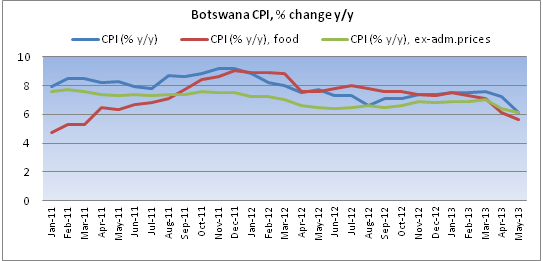 Source: Statistics Botswana
Our forecast is that inflation will continue on the downward trajectory and will fall within the 5.9% to 4.2% range up to the end of the year, thus reaching the Bank of Botswana 3-6% objective range for the first time since March 2010 when it spent just one month inside that range (which was 6.0%y/y).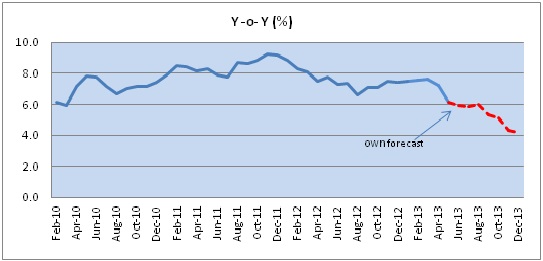 Source: Statistics Botswana
The improved inflation environment coupled with generally weaker domestic economic outlook will likely push the Bank of Botswana to cut interest rate further before the end of this year. The last interest rate decision by the Bank of Botswana was a downward review from 9.5% to 9.0% in April this year.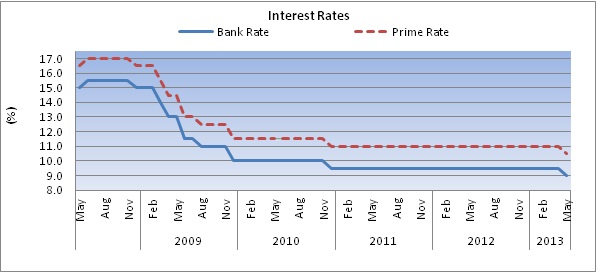 Source: Statistics Botswana
(Story supplied by Motswedi Securities)