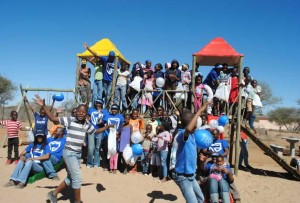 This Saturday, 17th August 2013, saw Stanbic Bank Botswana bring smiles to the faces of children of Metsimotlhabe Village in the Goo Madisa Ward as they set their eyes upon a brand new recreational centre for their use. A donation made by the Stanbic Bank Finance Department for children of the village, the recreational centre comes as yet another effort by the Bank to show greater involvement and a sense of giving back to the communities in which it operates.
This is the first phase of the project in which the playground, a recreational park, is being furnished with outdoor play equipment. The recreation centre consists of a security fence, playground, swings, towers, see-saw, hop scotch and benches to the combined value of P60,000.00. Amongst those in attendance at the handover event were the local Kgosi, MP Councilors, District Commissioner, S&CD members, VDC Members, Stanbic Bank Finance Team and CSI Committee members as well as parents and jubilant children.
"Healthy exercise is necessary to the growth and development of every child and a sense of neighbourhood and community play cannot be overemphasised. We are incredibly proud of our Finance department for such a heart-warming initiative and pleased to be a part of such a worthwhile, wonderful project." Said Keagisitswe Magacha – Performance & Analysis Manager, Stanbic Bank.
The outdoor play gym equipment is expected to afford the children the necessary physical training and social interactive skills during play along with a healthy dose of fun. It is hoped that the playground will encourage greater outdoor play as well as the development of the children's fine and gross motor coordination skills, social and interactive skills, and sense of community spirit.
"We believe the new play equipment will also assist the parents and community of Metsimotlhabe in getting the children to exercise and have more interactive play sessions. This is a long term investment that will allow the children to experience the joy and laughter that comes from enjoying a play area which all children rightfully deserve," said, Ruth Lorato Modisane, Public Relations Manager, Stanbic Bank.