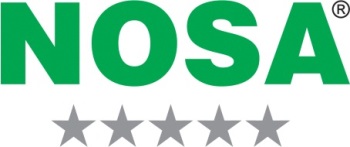 NOSA (Pty) Ltd, a subsidiary of MICROmega Holdings Limited, has received approval status for its Occupational Health and Safety Rep Skills Programme from the Mining Qualifications Authority (MQA).
The MQA is a statutory body established in terms of the Mine Health and Safety Act No. 29 of 1996 and is a registered Sector Education and Training Authority (SETA) for the Mining and Minerals Sector in terms of the Skills development Act No 97 of 1998. The MQA, through its delegated qualification assurance functions must ensure, inter alia, that the Mining and Mineral sector has accredited providers that will maintain the quality of standard, qualifications and learning provision.
"The MQA congratulates NOSA for having achieved its Programme Approval status," said MQA Chief Executive Officer, Sam Seepei.
"Achieving MQA approval means that we can now present a complete skills programme to learners working at any type of mine", added Justin Hobday Managing Director of NOSA.
Hobday said the Mining Occupational Health and Safety Rep Skills Programme is now mandatory as a training requirement for all mines and the certificate issued by the MQA is transferrable across all mining sectors. He added that there is a significant need to train SHE Reps in the mining industry and with our vast geographical presence and experience NOSA is well positioned to meet this need."
"This approval is in line with our strategy to provide accredited training and adds to our primary accreditation with the Health and Welfare Sector Education and Training Authority (HWSETA), whose primary aim is to facilitate skills development in the health and social development sector."
"HSE management is one of the key challenges facing global mining firms in Africa and NOSA is best positioned to assist in mitigating this risk", revealed Greg Morris, MICROmega Holdings Chief Executive Officer.
"With its global footprint NOSA is continually working towards innovative solutions to assist mining companies to succeed in an ever-changing business environment. Through NOSA's extensive list of training, consulting and auditing services, we have a proven track record of reducing injuries and fatalities in the mining sector."
"NOSA offers innovative solutions customised for the mining industry such as Risk Management Consulting, Safety Audits, Mine Management Training & Mentoring Programmes, Working at Heights and Reptile Risk Training and we are confident that the MQA approval will open up a number of additional opportunities into the mining sector for NOSA", states Hobday.
Next week NOSA will be hosting its 52nd NOSHCON, South Africa's largest International Occupational Risk Management Conference & Exhibition at Champagne Sports Resort in the Drakensberg.