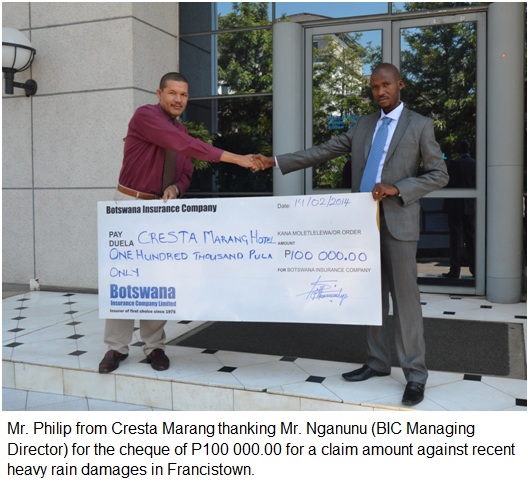 Flood damage is one of those unexpected, yet inevitable natural occurrences. A number of businesses still have not assessed their business risks and evaluated the importance of having the right insurance coverage with a reliable, reputable insurance company.
The recent floods experienced in Botswana's Northern region have, once again, caused significant damage to a variety of businesses resulting in loss of productivity and severe disruption. Francistown experienced heavy rains in February 2014. Numerous houses were flooded, motor vehicles were damaged and a few roads were closed off.
One of Botswana Insurance Company Limited's clients, Cresta Marang Hotel, was affected. Extensive damage was done within the garden area of the hotel premises, where mainly the interior areas experienced high water levels resulting in the damage to buildings. Botswana Insurance Company Limited (BIC) sent in a Loss Adjuster as soon as possible to assess the damage and assist in mitigating the loss. With adequate planning, the hotel was able to avoid further significant damage. Appreciating the need for business continuity, BIC has paid an interim payment of P100 000 to Cresta Marang Hotel.
BIC's aim is to ensure that a client has minimal interruption and can take on a business as usual approach. BIC is focused on speedy turnaround time on claims and is aiming to ensure that payments are issued promptly.
BIC urges businesses, from SMMEs to large companies, to assess their insurance needs, identify critical areas that can affect their business should the unexpected happen and implement sound risk management and protection plans. After all not having an adequate insurance plan in place could leave your business feeling a bit under the weather.