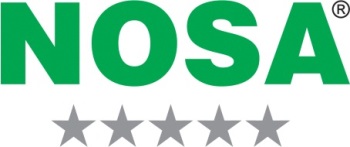 NOSA, a subsidiary of MICROmega, has expanded its risk management services, by partnering with AlertDriving, a Toronto based company, which is a pioneer in web-based driver risk management solutions.
NOSA has obtained a licence from AlertDriving to offer several e-learning courses, which can assist companies in identifying and mitigating the many risks associated with driving.
 The following is on offer 1. Hazard Perception Evaluation – designed to identify high-risk drivers by assessing    their propensity to be involved in a collision. Based on each individual's specific deficiencies, the programme assigns targeted training modules to mitigate a driver's assessed risk. 2. Defensive Driver Training – targets the most common causes of collisions. 3. Eco Friendly Driver Training – teaches drivers how to reduce their vehicle's harmful Co2 emissions and minimise fuel spending.
"These courses allow NOSA to provide its customers with a similar service to the SAMTRAC E-Learning Course, where the training is via an e-learning platform and permits students to access the course material via a smartphone, tablet or computer. This gives students the opportunity to be trained, at their own convenience. Many companies have multiple branches or offices across South Africa and globally, thus the e-learning platform gives a consistent message to all employees no matter where they are situated, without incurring the additional cost of travel and accommodation," explains Justin Hobday, the Managing Director of NOSA.
All NOSA training programmes are based on the latest occupational risk management principles that equip employees with the knowledge and skills to reduce workplace incidents, create a healthier workplace and identify and manage environmental impacts. This e-learning programme focuses on driver risk management and is aimed at further enhancing NOSA's product and service offering.
 "AlertDriving's solutions are available globally and correspond with NOSA's international offerings," says Rob Martin Vice President of Sales at AlertDriving. "We are excited to further expand internationally and look forward to providing NOSA with a world class product to assist with their clients' fleet risk management initiatives".
 "Just about every business experiences a risk associated with driving – from a driver in a fully-fledged transport company or a salesperson visiting prospective customers, to an employee driving to work every day. NOSA has therefore added these e-learning courses to its service offering in order to equip its client base with managing driver risk," adds Hobday.