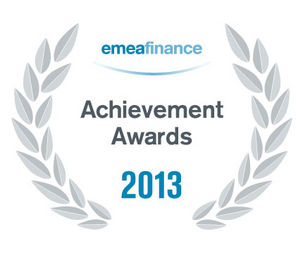 Stanbic Bank Botswana parent, Standard Bank Group, Africa's largest bank by assets, has walked away with numerous accolades at the 2013 EMEA Finance Achievements Awards, including the house award for being named the Best Syndicated Loan House in Africa.
Some of the notable transactions for which EMEA Finance recognised Standard Bank in 2013, were for Standard Bank's role in arranging Aspen's multi-billion dollar funding package, and assistance and support of the African Finance Corporations' syndicated loan – their loan market debut.
Standard Bank Group was also recognised in the following categories:
Best supranational bond in EMEA – Afreximbank's US$500mn bond

Best restructuring in EMEA – Electricity Supply Corporation of Malawi's ZAR79mn restructuring

Best convertible bond in Africa – Impala Platinum's US$500mn dual-tranche
Mr David Munro, Chief Executive, Standard Bank Corporate and Investment Banking says: "These awards highlight our commitment to finding innovative solutions for our clients and to supporting growth and development on the continent.
"Our extensive pan African presence coupled with our experience of operating across many sectors critical to Africa means that we are uniquely placed to provide our clients with first class service and appropriate funding to enable them to execute on their strategic development."
Standard Bank continues to position itself as the leading bank on the continent through its operations in selected countries in Africa.  By adding two new regions in Ethiopia and more recently Cote d'Ivoire to its list of operations in Africa, Standard Bank is able to deliver a full range of corporate and investment banking services to clients across various emerging markets, having built strong in-country advisory capabilities.  In total, Standard Bank now trades in 20 countries.
For the past six years Standard Bank has received multiple awards from EMEA Finance, which continues to recognise the group's leading position in the African capital markets.
The latest EMEA Finance Achievement awards add to Standard Bank Group's list of accolades already received in 2013. These include winning: the African Deal of the Year award for Konkola Copper Mines financing which was recognised in the 2013 Project Finance Deal of the Year Awards; Commercial Deal of the Year in the 2013 Trade & Forfaiting Review Deals of the Year for arranging finance for commodities trader Export Trading Group; and being named Best Trade Finance Bank in Africa by Global Finance.
EMEA Finance is a leading bimonthly global industry publication that reports on the major financial events and happenings initiated and influenced by the international financial industry active in Europe, Middle East, and Africa (the EMEA region).