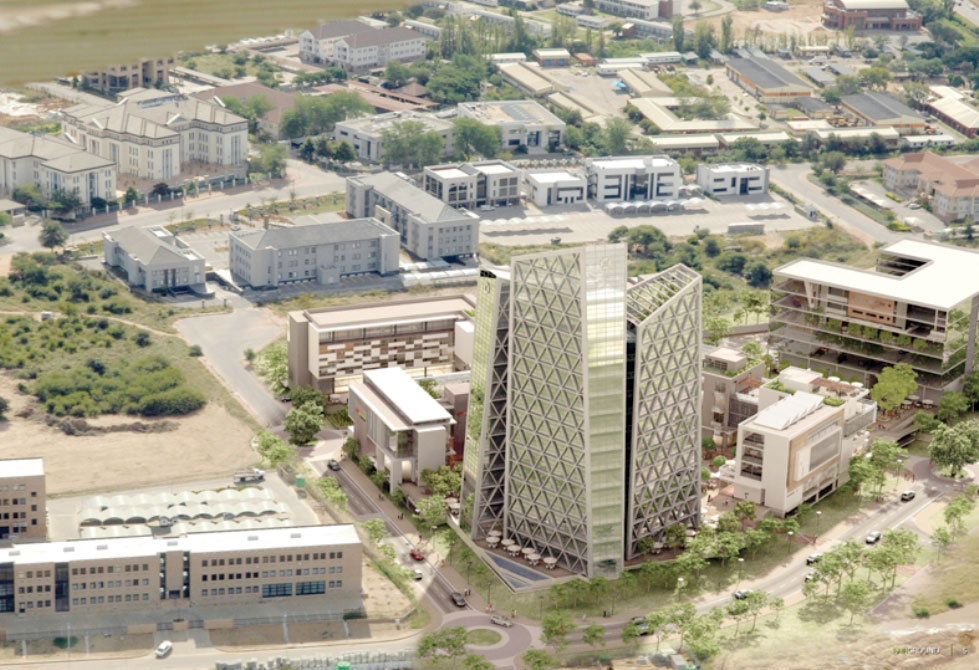 Botswana Development Corporation's (BDC) headquarters, Fairscape Precinct, has been awarded two Fulton Awards by the Concrete Society of South Africa. The Awards included the Building Structure award for projects over R100 million in total value, and a Commendation for Innovation in Concrete.
The Fulton Award, which recognises excellence and innovation in the use of concrete, is made symbolically to the structure and is presented to the entire team responsible for its construction, including the owner/developer, all professionals, and the contractors.
"BDC is immensely proud to have been recognised in this way by an esteemed industry body such as the Concrete Society of South Africa. We are particularly excited that the award recognises excellence and innovation that are qualities that speak very much to how we execute our mandates at BDC. We are also grateful for our successful partnership between architects, contractors, labourers and indeed financiers to be recognised in this way. With this Fulton Award, we have essentially demonstrated what is possible through partnerships," said Bashi Gaetsaloe, Managing Director at BDC.
Fairscape Precinct was commissioned by BDC in an effort to revitalise Fairgrounds Office Park which was lacking in options for world class mixed use property. The development, valued at over P400 million, was designed as a unique multipurpose development that raised the bar for office and retail space available at Fairgrounds. Fairscape Precinct comprises of 15 floors of A Grade offices and penthouses in The Tower, as well as two free standing office blocks around a central piazza. The piazza, built around a fountain, is designed to host retail and restaurant spaces that offer a premium lifestyle experience.
Gaetsaloe remarked, "Besides being an excellent 40th birthday present for BDC, awards such as these really give Botswana businesses confidence when they see their efforts recognised internationally. I believe this award gives further confidence to local and international companies that Fairscape Precinct is the right business address for them."
The environmentally conscious Fairscape Precinct will eventually feature a 120-room hotel and further office and residential space. The Award recognises the efforts of the team involved with the concrete structure that includes BDC and its subsidiary – Commercial Holdings, Boogertman & Partners, Stefanutti Stocks Botswana, WSP Structures Africa, Pula Construction and Structural Precast Elements.