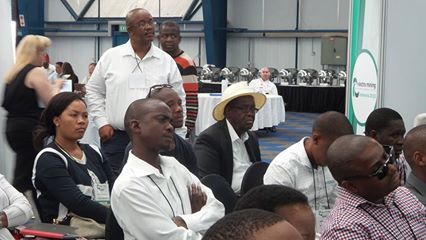 Rand Merchant Bank Botswana (RMB), the corporate banking division of First National Bank of Botswana has assured the mining industry that it has the capability alongside other monied entities to finance viable mining projects in the country.
Client Relationship Manager (Coverage) at RMB Botswana, Kabo Molimi told Electra Mining Botswana 2015 in Gaborone that there are many avenues to raise capital in the country including capital markets, banks, asset management companies, who act on behalf of pension funds, and venture capitalists, among others.
"We do have the capacity and if you talk to us, we can do it for you," he told a free to attend seminar during the expo that brings mining stakeholders together.
The country's banking industry is smarting from liquidity problems and is better off compared to at the start of the year with capital up for taking by bankable projects.
Equally, the Botswana Stock Exchange is another avenue to raise capital as mining companies have the option to list on: the main board, foreign board or the speculative venture board with a number of companies having had used these services to fund operations.
One such shining example is Lucara Diamond, which operates the Karowe mine in the Orapa kimberlite area. The company now recovers some of the world's most talked about diamonds.
"Even if there are banks, to look at, there is the BSE to raise the cash you might need," advised Molimi.
The Botswana pension fund industry is also sitting on around P60 billion that mining companies could tap into to fund operations. Molimi said this is the "cash held by asset management companies to tap into".
A chunk of these monies have been invested abroad on the 70-30 rule but now NBFIRA, the regulator of the industry, wants a large amount to be invested locally to develop Botswana.
Equally, venture capital and structured finance is another suit of products that the mining industry could use to fund operations. One of the prominent companies in this form of funding is VPB, which has also introduced a Fund in Namibia.
"You can look at venture capitalists to raise money for the mines". According to Molimi, because mining is a capital intensive undertaking, they can find solutions in syndication and also share risk with parent companies.
The largest bank in Botswana has a single obligor of P650 million.
RMB footprint in Botswana
The FNBB division already has dealt with the mining industry in the past and has deals in place in copper and diamond industries. The diversified financial services company offers its Botswana clients access to a comprehensive suite of investment banking products and services, including advice, finance, trading solutions, infrastructure and project finance, structured trade and commodity finance, fixed income, currency and commodity services and investment opportunities.
According to Molimi, RMB Botswana has provided advisory services to BCL Polaris 11 strategy; the Morupule Colliery expansion project and the diamond industry where it facilitated letters of credit with cash hungry mining companies.
RMB and FNB Botswana collaborated to fund the Morupule Colliery expansion with the expanded collier serving as the sole source of coal for the Botswana Power Corporation.
Equally, RMB and FNB Botswana also collaborated to provide advisory services around BCL's Polaris II strategy, which seeks to diversify BCL away from copper and nickel concentrations.
Molimi said they are ready to consider lending to any business that 'makes business sense' when asked if they fund companies in the downstream industries. However, he warned that mining can be a risky business especially at exploration stage as promoters can lose money on exploration, but fail to have the project proceed to bankable stage.
"A typical mine takes between 7-10 years and in terms of cash, it is a cash hungry business, but returns are good," he said.
"You can spend a lot of money in exploration and find nothing, and then you pack and go".