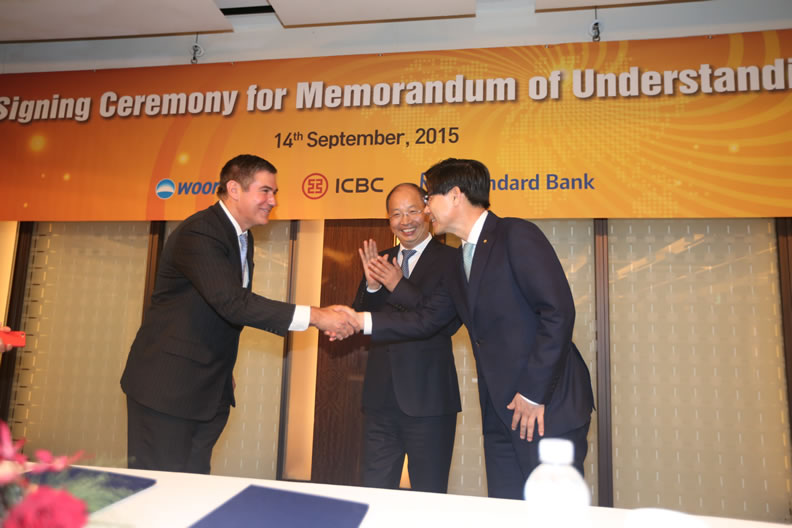 Standard Bank has signed a trilateral business cooperation agreement with Woori Bank and the Industrial and Commercial Bank of China (ICBC) to promote mutual cooperation in relation to business expansion in Africa.
Standard Bank signed a similar agreement with Woori Bank, one of the largest commercial bank in South Korea, in April this year.
"This trilateral agreement will make it easier for Korean and Chinese companies to cooperate in developing business in Africa. Standard Bank will become the pre-eminent bank of choice for these activities," said Robert Cleasby, Standard Bank's Global Head of Financial Institutions.
He said that Woori Bank has no presence in Africa and therefore a partnership with a strong bank like Standard Bank will enable it to extend its banking relationship with key Korean clients across the continent. ICBC and Standard Bank are strategic partners, with ICBC having a with a 20,1% shareholding in Standard Bank.
Woori Bank has been providing financial services to Korean corporations in the African market through a Korean Desk in South Africa, made possible by the business cooperation agreement which it signed with Standard Bank in April this year. Through this trilateral business cooperation agreement that includes ICBC, Woori Bank will be able to expand its target business to include Chinese corporations actively investing in Africa.
"The three banks, all leaders in their respective home markets, will be able to take advantage of the various business opportunities and provide excellent financial services to Korean and Chinese corporations investing in Africa through mutual cooperation in the potentially fast-growing African region," Woori Bank CEO Lee Kwang Goo said.
"In addition, using the Korean Desk in South Africa as a foothold, Woori Bank will be able to provide customized financial solutions for Korean and Chinese corporations that have already entered or are preparing to enter the African market."
The Industrial and Commercial Bank of China operates over 18 000 networks in 41 regions across the globe and is the number one bank in the world (based on assets). Standard Bank, founded in 1862 with 153 years of history, is the number one bank by assets in the Republic of South Africa. Standard Bank maintains networks in the largest number of countries across the African continent: over 1280 networks in 20 countries.