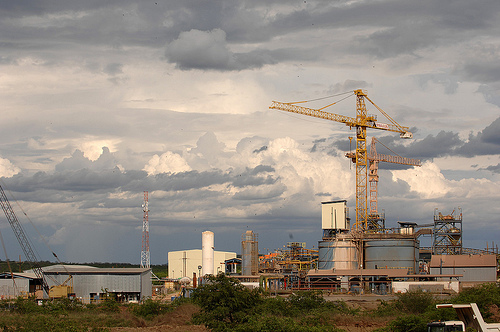 Galane Gold (GG) has affirmed its commitment to continue working alongside the communities it operates in during the historic launch of the company's flag that will bolster its presence in the country by raising the flag that bears the company's official emblem.
The company, which owns the Mupane Mine near Francistown, has launched its own flag that will fly alongside the national flag. General Manager of Galane Gold Botswana operations, Lawrence Manjengwa noted that his company acknowledges that communities where it operates are key contributors to its success.
"GG has vowed, through its sustainability policy to create lasting relationships with communities built on mutual respect and trust in order to reach objectives and shared involvement based on GG corporate social initiative programs and public relations strategies," said Manjengwa.
"GG also commits to respecting human dignity as well as the rights of individuals and of the communities associated with our operations. GG and its subsidiaries are therefore happy to share this golden moment with the communities and rest of key stakeholders." Galane Gold, which is the only operating gold outfit in Botswana, employs 500 people either directly or indirectly through contractors.
The launch of the flag will shore up the company's presence in Botswana- a move that is seen as transforming gold mining in the country. "This is a historic event for GG as it marks the beginning of a new era for the gold mining industry in Botswana and GG is proud to share the golden moment with all its stakeholders," Manjengwa revealed.
He added that the company's emblem is a symbol of its pride and flying this everyday alongside the national flag of Botswana at its operations will be a clear expression of a long lasting relationship with GG stakeholders in Botswana. "The GG emblem design is a brainchild of one of the MGM employees, which makes it very special. It represents the hands of Batswana protecting the precious metal. "
Galane Gold Ltd (GG), the Canadian TSX Venture exchange listed company is a gold producer and explorer with its operations in Botswana and its key asset is the Mupane Gold Mining (Pty) Ltd (MGM), which it own 100%. Other companies it owns in Botswana are Shashe Mines (Pty) Ltd and Galane Gold Botswana (Pty) Ltd, which is listed on the Botswana Stock Exchange.
The company acquired Mupane mine and Shashe operations from IAMGOLD in August 2011 following successful completion of the acquisition deal in July of the same year. Gallery Gold, an Australian company, commissioned Mupane operations in 2004, but sold the operations to IAMGOLD in 2007.
The mine near Francistown has been producing an average of 50,000 ounces of gold per year since commissioning and GG has continued with same level of productivity but has commissioned Shashe operations to supplement the depleting resources at Mupane.
GG successfully acquired Northern Lights Exploration (NLE) in 2012. NLE owned most of the gold prospecting ground in the Tati Greenstone Belt, which hosts both MGM and Shashe operations. The acquisition of NLE provided GG with a significant opportunity to further explore for more gold resources in Botswana. GG has continued to invest significantly in exploration projects within the Tati Greenstone Belt with the objective of continuously increasing its resource base.