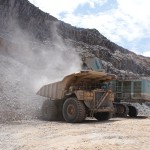 Anglo American says mine disaster at the Debswana's Jwaneng mine was the main cause of the decline in the diamond production for the group in the third quarter ending 30 September 2012.
The slope failure at the world's largest producer of gem diamonds saw the suspension of operations so that an investigation can take place.
In an update, Anglo American, which recently bought Oppenheimer stake in De Beers said this disaster together rough diamond market contributed to the fall in production.
"Diamond production decreased by 31% to 6.4 million carats, largely in response to market conditions and the Jwaneng slope failure," says Anglo American.
On 16 August 2012, Anglo American completed the acquisition of a 40% shareholding in De Beers from CHL Holdings Limited for a cash consideration of $5.2 billion.
According to Debswana, a 50-50 percent partnership between Botswana government and De Beers, Jwaneng Mine is the flagship of Debswana due to substantially higher dollar per carat obtained for its gems. Jwaneng Mine contributes about 60-70% of Debswana's total revenue.