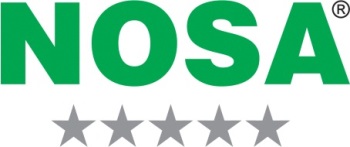 MICROmega Group Company, NOSA is the official safety awareness sponsor of the Investing in African Mining INDABA 2015, taking place in Cape Town from 9 to 12 February. The Mining Indaba is the world's largest mining investment conference and is expected to host more than 7,000 influential professionals in African mining.
The South African mining industry has reported a decline in fatalities and injuries for 2014 – the seventh consecutive year these figures have dropped – with the official numbers expected to be about 9% better than in 2013. NOSA, which has been providing HSE services to the mining industry for more than 60 years, has long been a positive contributor to this trend.

"HSE management, however, is still one of the key challenges facing global mining firms in Africa," says NOSA CEO, Duncan Carlisle. "NOSA is best positioned to help mitigate mining's associated risks, which is why we are happy to invest in and be associated with the Mining Indaba; it is indicative of our commitment to the industry – in terms of both its safety record and overall success."

NOSA is constantly working towards innovative occupational risk management solutions in the mining sector and many of its products and service offerings will be on display at the Mining Indaba;
NOSA is also sponsoring a health and safety briefing at the event every morning.
"With reputational risk being so directly linked to HSE issues, now more than ever the mining industry is under scrutiny about its occupational health and safety, and its social, record," says MICROmega CEO, Greg Morris. "A huge amount of foreign investment has come into the African mining value chain in the past two decades, due in large part to the success and collaborative nature of the Mining Indaba. South Africa has the fifth largest mining industry in the world and its success is vital to the country's and the continent's continued growth."

Among its raft of specialised mining solutions, NOSA offers contractor vetting services and audits; responsible and ethical sourcing and supplier development programmes; and a wide array of mining-specific safety training courses, including the internationally recognised SAMTRAC E-learning for Mining.