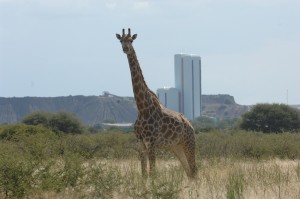 Debswana Diamond Company has called on different business partners in the tourism industry to play an active role in growing and protecting the industry as it is a vital force for Botswana's economic development.
Dr Adrian Gale, General Manager of Orapa, Letlhakane and Damtshaa Mines, who was representing the Company at the Hospitality and Tourism Association of Botswana (HATAB) Conference, held in Maun, said: "I challenge all of us to promote and protect this industry because it is critical for Botswana's economic growth and diversification efforts away from diamond mining."
"The tourism sector's direct contribution to GDP has been increasing over the years, but we must find opportunities to increase this from the 3.7% where it stands at the moment." Debswana sponsored the conference to the tune of P50 000 as a way of promoting the tourism industry.
Dr Gale encouraged the HATAB membership to take advantage of the unique opportunities offered by this sector. "The development strategy for the tourism sector has to take into account other strategic development initiatives underway in the economy so that the sector incrementally leverages key sellable aspects of our country, such as the relocation of the Diamond Trading Company from London to Botswana which will see about a hundred staff and their families relocating to Botswana, in addition to the large numbers of diamond buyers who will come the country to buy diamonds every six weeks", he says.
"These people could be targeted with offerings as part of a broader portfolio of tailored products to suit the type of tourists and inhabitants expected. We need to be looking for new levels of service, new choices and offerings to keep them fresh, competitive and in demand. Service standards have to be reassessed and new, different repackaged offerings developed by individual organizations and the industry as a whole. Further training of our personnel in the industry is crucial so they can perform to international standards,".
He further implored upon the conference participants to assist the industry with addressing the various challenges it faces, such as access to land, access to funds, development of infrastructure and of course, access to various destinations in Botswana.
Debswana remains a key development partner to the tourism industry as it has over the years sponsored various projects aimed at promoting tourism, protecting the environment and educating local communities on eco-tourism. The company is funding the Tsodilo Hills World Heritage Site project to the tune of P10 million over a five year period, since 2009.
Through the Jwaneng Mine CSI programme, Debswana also provided three-year support to the tune of over P900 000, to the Kuru Family of Organisations for them to host their annual cultural dance festival, which is a cultural and tourism event, attracting tourists from across the world.
In addition, Debswana has two game parks at Orapa and Jwaneng, which are for eco-tourism, biodiversity, research, environmental outreach and education, averaging currently around 2000 visits a month. An important development is taking place in Orapa, termed, Orapa Today and Tomorrow, which is to make Orapa a great place to live and work, and to leverage its position as the first great diamond mine in Botswana, to becoming the commercial hub for the development of Boteti.