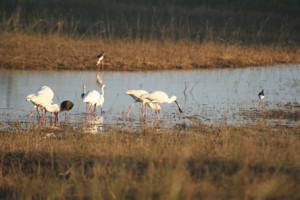 The United Stated of America (U.S) Ambassador to Botswana Michelle D. Gavin has commended BirdLife Botswana for developing the bird tourism sub-sector in the country.  Gavin said at a recent Birdlife Botswana "World Migratory Bird Day" in Mogoditshane that Botswana's future lies on the use of natural resources. The global bird watching business is estimated at US$ 80 billion per year.
"One of the things I most admire about BirdLife is their work with local communities to bring some of that $80 billion to Botswana by developing bird watching tourism here," Gavin said.
"I admire that activity because I am convinced that Botswana's future economic prosperity lies in the sustainable use of its wildlife. Just as diamonds helped build the Botswana of today, sustainable use of wildlife can build the Botswana of tomorrow."
She highlighted that already today, the local eco-tourism generates P8 billion every year and employs almost 50,000 Batswana adding that the value of Botswana's wildlife and its importance to the average Motswana will only continue to grow. "By 2022, tourism-related activities are projected to almost double to bring in over P15 billion- but that will only happen if we all work together to preserve Botswana's environmental wealth".
"But for Botswana to prospers sustainably, the country's environmental wealth must not only be
preserved, it must also be distributed. The rural communities that live with wildlife must benefit. And the best way to make that happen is to empower and organise communities to manage local natural resources".
Gavin said Bird Life Botswana's projects to identify important birding areas; train birding guides and to help communities set up tourist infrastructure are important. "Communities that profit from the presence of birds will protect birds and their habitats," she said.
"Unfortunately, our featured friends need that protection, especially those that migrate long distances. For example, it is estimated that in excess of 100, 000 migratory birds are killed every year in the countries bordering the Mediterranean Sea. Many of these are the same birds that would delight tourists in Chobe National Park or the Okavango Delta".
Gavin added that the result of the unnecessary bird deaths in Malta and North Africa reduce the income of tour guides in Nata, Seronga and Rakops. "The conservation of migratory birds has direct relevance to poverty reduction and human development in Southern Africa".
She highlighted that even when migratory birds are not harmed, they are in peril. She noted that during the 8, 000 km trip from the  Mediterranean Sea to Botswana, the birds stop to rest a couple of times. "Due to their dependence on the many habitats along their migrations, birds often feel the effects of these changing environments first, before other animal species, making them key indicators for the health of the environment".
Birdlife Botswana celebrates the World Migratory Bird Day together with partners like the U.S Embassy, to expose children to the linkages between migratory birds, biodiversity conservation and sustainable development.
Birdlife Botswana was hosting the event for 5th year in a row and during this day people from around the world gather to celebrate the day.
The BirdLife Botswana is a local organisation that strives to conserve birds, their habitats and global biodiversity, working with people towards sustainability in the use of natural resources. The organisation also prevent the extinction of any bird species in the wild; maintain and where possible improve the conservation status of all bird species and conserve and where possible improve and enlarge sites and habitats important for birds. It also helps, through birds, to conserve biodiversity and to improve the quality of people's lives and integrate bird conservation into sustaining people's livelihoods.