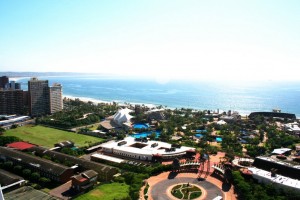 With the 2014 FIFA World Cup qualifiers underway, the pressure is mounting on nations to outdo each other to get to soccer's most coveted event. The time has come for Botswana and South Africa to claim their place on the world stage as they go head to head during a match this weekend in Durban. The Moses Mabhida Stadium will be filled to capacity as excited fans gather to cheer on their team. Since hosting some of the World Cup games in 2010, the stadium has remained a prominent feature in Durban, and the city will once again be abuzz with activity come Saturday 7 September 2013.
Soccer matches last approximately 90 minutes, leaving plenty of room outside the game for a host of other activities. So why not then spend the rest of your trip exploring the city of Durban with attractions such as the Gateway Mall? Gateway Mall has more than 1.80 visitors a month, and is home to the highest indoor climbing rock in the world.  Although some malls in the Southern hemisphere have claimed the same title, the mall might just be the largest place to shop south of the equator. 350 stores, over 70 restaurants and a total of 24 cinemas and movie theaters ensure this mall is a holiday maker's dream. Arcades, theme parks and even the highest fountain in Africa have continuously pulled crowds of from far and wide to see this beauty.
Tranquil is how many describe the Essenwood market, the park constantly has that Saturday beautiful morning energy, with enough buzz to put a spring in your step and yet not too much to make you wish you had ear muffs. The market is popular with both locals and visitors, who come to shop, grab a cup of coffee or just to have breakfast in the park. The Market Restaurant is one of the main attractions, with their all day breakfast which you will have  in view of a water fountain surrounded by stunning greenery, at times with a guitarist strumming  away to add to the ambiance. The many different stalls at the market with handmade items, clothes and food are simply waiting to be explored. Whether it's your first time in Durban and you are looking for a gift to take home, a cute outfit for your poodle, or a statement t-shirt to show off to the world that you have been to Durban, you will find pretty much everything you need and need.
Coming from a landlocked country like Botswana, the only time we get to see the open water is on a trip to the coast. The beach needs to be experienced at least once by everyone. The seemingly endless water and the sand in between your toes are feelings only you can explain.  You won't always be lucky enough to spot dolphins or other sea creatures, and, for those times, there is the Ushaka Marine World.
The world class aquatic theme park lets you get up-close with sharks if you are an adrenaline junkie or a kiss from a seal if you prefer the more tame. In the I&J snorkel lagoon, with its clear blue waters, you snorkel amidst a beautiful diverse assortment of fish while coral gleams at you from below. Tanks with all types of sea creatures will leave you feeling like you have parted water and are walking through while the animals watch you passing by. So why not let the salty sea breeze soothe away the knots and kinks that the anticipation of this game's results will surely bring?