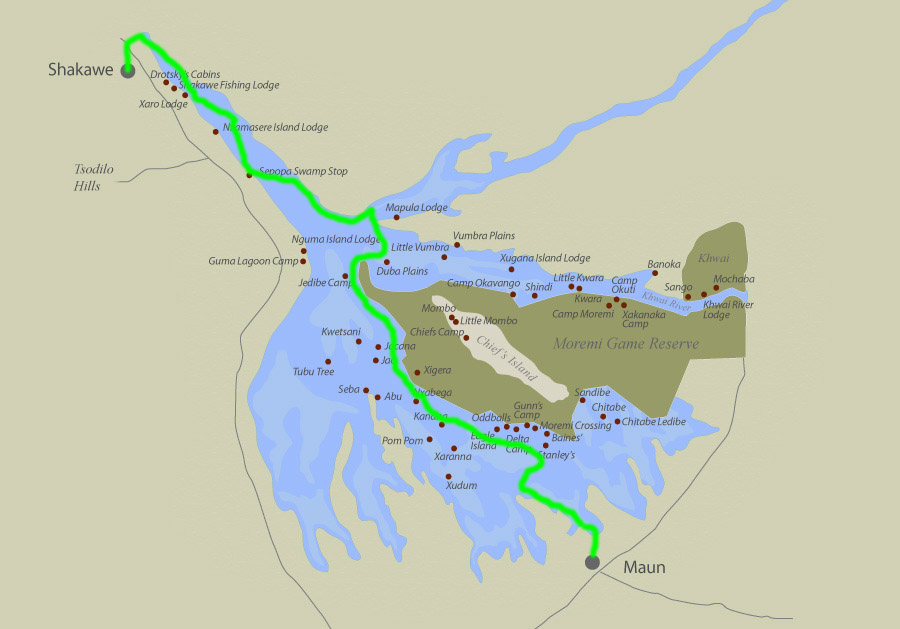 Botswana's two top travellers and photographers, Thalefang Charles of Mmegi newspaper and Pako Lesejane of Botswana Guardian would embark on an adventurous water trail expedition across the Okavango Delta from Shakawe to Maun using mekoro (dugout canoes).
The trip, dubbed "Cross Okavango Delta Expedition" starts on May 30 to and will end on June 16, 2015. The expedition is supported by the Botswana Tourism Organisation (BTO).
"This expedition will tell the story the (of) Okavango Delta to Batswana and the rest of the world through the eyes of young Batswana adventures."
According to a brief on the expedition, Charles and Lesejane would photograph the scenic landscape and wildlife pictures to be later presented through an exhibition and coffee table book.
The expedition will have film crew that will produce a travel documentary show on the completion of the trip.
It is hoped that the expedition would assist in the promotion of this adventurous eco-friendly trail to attract more global adventurous tourists through social media, newspaper reports, blogs, video and coffee table book. The trip also aims to encourage Batswana to travel so that they could enhance their pride for their beautiful country.
Histrokavango Safaris together with experienced polers from the Mbiromba Camp from Seronga would be guides for the expedition.
Expedition Members Bios
The duo Thalefang Charles and Pako Lesejane are seasoned travellers who have been travelling together for seven years in annual road trip expeditions covering 15 African countries.
Thalefang Charles
Photographer, writer, Traveller
Charles is a backpacker with great passion for travelling in Africa. He has travelled on road through Livingstone trail from Kolobeng in Botswana to Zanzibar in Tanzania. He has crossed the pirates-infested Indian Ocean on a speedboat from Stone Town, Zanzibar to Mombasa, Kenya. He has successfully climbed to the highest point of Kilimajaro, Uhuru Peak 5895m, Africa's highest point. He has also hiked the Dranskensburg and Maluti mountains in South Africa and Lesotho. He has traversed the Kalahari Desert and Makgadikgadi Pans by foot. He has spent days travelling through the true wilderness of the Namib Desert where the cold Atlantic Ocean meets the barren Namib sand dunes. He has also spent a month touring China 2012. In 2014 he embarked on a month-long solo-backpacking odyssey through six African countries, Botswana, Zambia, Tanzania, Burundi, Rwanda and Uganda.
A self confessed "travelholic", Charles loves to immerse himself in different cultures, in his words; "Eat local, Drink local, Do local." He is a shrewd trip planner who can double as a negotiator and fixer in any expedition.
Pako Lesejane
Photographer, Travel writer, Traveller
Lesejane is a landscape photographer who successfully completed Landscape Master programme in Cape Town where he has exhibited some of his works. Lesejane has travelled extensively with Charles where they followed the Livingstone trail from Kolobeng in Botswana to Zanzibar in Tanzania. In 2012 he was sponsored by Namibia Tourism to explore Namibia, photographing landscapes over 15 days. He has climbed Kilimanjaro up to Uhuru 5895m Peak. He has also hiked the Drankensburg and Maluti mountains in South Africa and Lesotho. He has traversed the Kalahari Desert and Makgadikgadi Pans by foot raising money for Charity. In 2014 he embarked on a self-drive safari through Central Kgalagadi Game Reserve, Chobe National Park, Nxai Pan and Moremi.
Pako oozes with happiness when he is on the road, with his always charming smile he is the connector and survival skills adviser (you would bet he is from the army). He is usually the chief cook and off-road driver in our expeditions. He is a former student pilot with an obsession for gadgets.