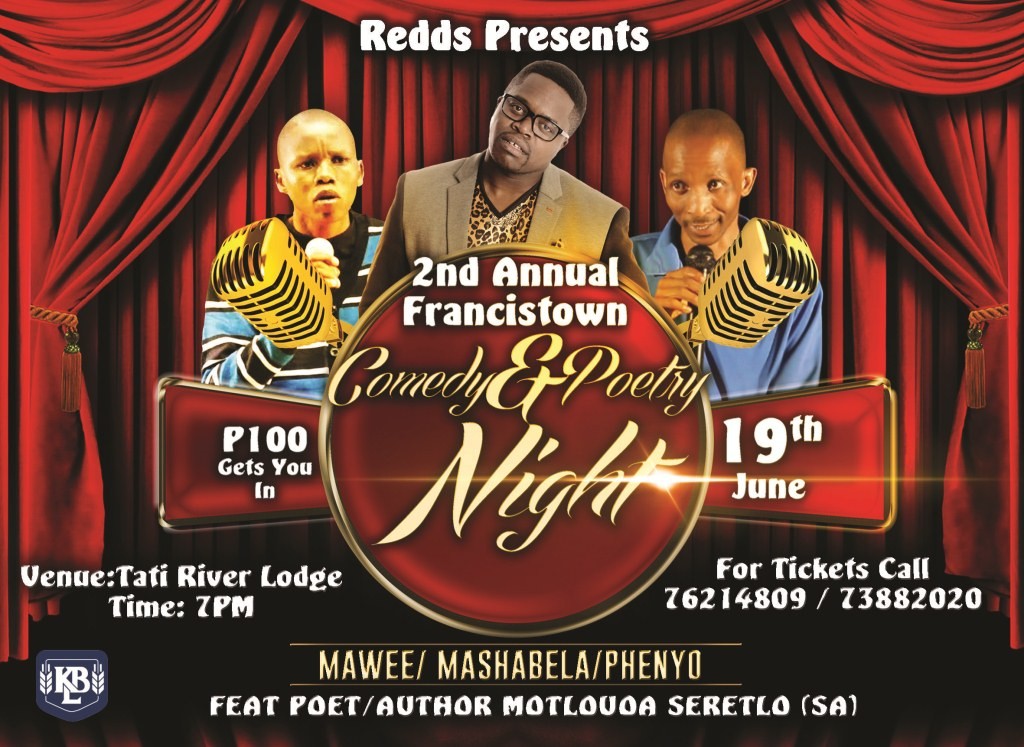 The 2nd Annual Francistown Comedy & Poetry Night is bringing non-stop laughter and poetic rhythms and stanzas on the 19th of June at Tati River Lodge with Botswana and South Africa's (SA) most funny stand-up comedians and acclaimed poets.
The audience will be treated to too much hilarity and great silliness from a variety of comics while also enjoying poetic narratives and sound plays from well-established poets. The show promises fireworks as it will be held at the same venue which hosted the 1st Annual event, and the venue is easily accessible to patrons who will experience top notch entertainment.
The headliners for the upcoming show are Botswana's comedy heavyweights Phenyo 'The Master' Phaladi and Oefile 'Mawee' Mokgware from Major Moves Comedy and top South African comedian Mashabela Galane while poetry will have prolific poet Mohlouoa Ntsasa. Superbly bizarre comic Mashabela Galane, is a crowd pleaser who doesn't tell jokes, but makes us laugh more than most comedians do. Mashabela is one of the hottest comedians in the comedy scene today and one of the most accomplished, hardest working comedian.
He is a natural comedian, born to make whoever he is with laugh and has a couple of DVDs and awards under his belt. Mashabela performs regularly at all of the main stream comedy clubs around SA. He is nominated for 2015 South Africa Comic Choice awards. Mashabela who will be performing for the 1st time in Francistown promised that he is bringing his best set and the audience must be ready to laugh more for a couple of weeks.
The dynamic Dr Mohlouoa Ntsasa is a South African prolific novelist, poet laureate, motivational speaker, acclaimed linguist, celebrated actor and academic. Ntsasa is the first African Poet, to research and write for twelve years (12 years) a poetry book called "Poetry" that has all sixty one (61) known forms of poetry in one book, thus includes but not limited to: Acrostics, Anagrams, Canzones, Epigrams, Limericks, Monosyllabics, Palindromes, Rondeaus, Sestinas, Tercets etc. Moreover, he wrote the second longest Palindrome Poem in the world, the first longest palindrome poem is 224 words written by Demetri Martin's and his is 335 words breaking the world record.
The show also features Mawee from Gabane and Phenyo "The Master" from Mochudi. The 2 comics are fresh from a great performance in South Africa at the monthly Tips & Friends show where Phenyo "The Master" got a standing ovation, and they were also part of the lineup at the Strictly Come Laughing event where they also impressed. They also took part on the inaugural Francistown Comedy & Poetry Night and are bringing clean, high energy, fun and clever comedy to the show. They have extensively toured with some of the industry's top comedians and been regularly featured on most Major Moves Comedy shows and are promising the audience strictly new material for the upcoming event.
The 2nd Annual Francistown Comedy & Poetry Night will also feature up and coming comedians and poets from Francistown and surrounding arears to share the stage with the headliners. "This event is another way to develop a different form of leisure for Francistowners as well as try to get our poets and comedians at par with international acts. This is the second edition and we are exploring ways of getting our talent to shine and we would like them to also go and perform at faraway places such as Maun, Gaborone and Internationally, and this a start to showcase their talent." says Bokang Gaobotse of Crystal Matters.
"The main aim really is to spread awareness about standup comedy and poetry as alternative forms of entertainment that are abundant in Botswana. Crystal Matters is a new company that wants to set a new trend in entertainment industry not only here but across the globe," he added. The event will be held at the Tati River Lodge court and the event is slated for Friday 19 June 2015 at 8pm. Tickets for the 2nd Annual Francistown Comedy & Poetry Night are available at Tati River Lodge and Webtickets priced at P100