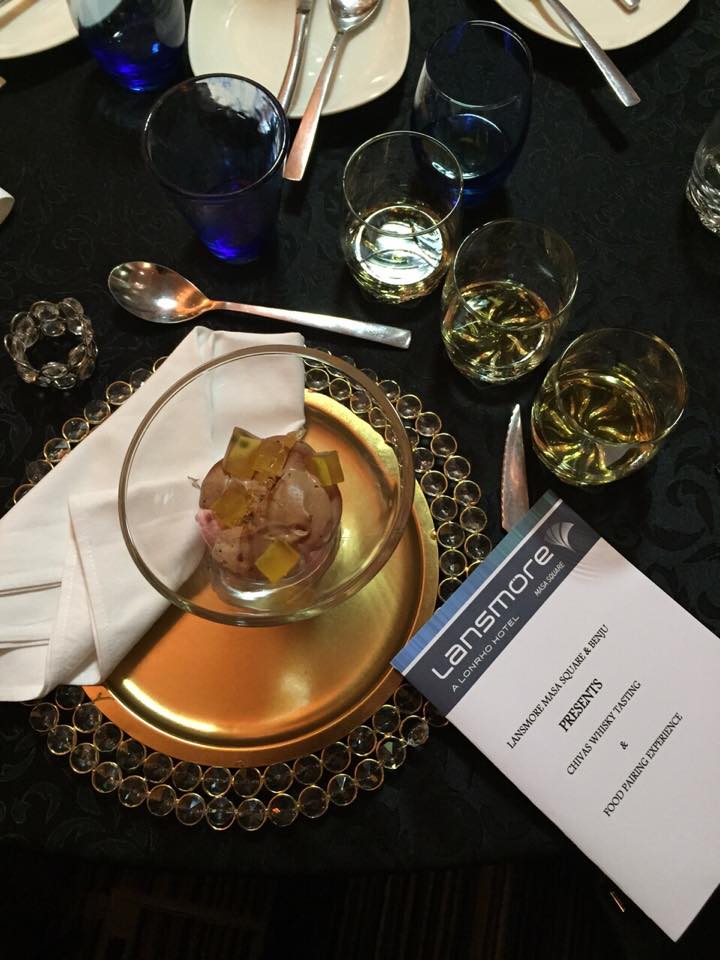 What a whimsical night it was. Lansmore Masa Square and Benju partnered on Thursday 25th June 2015, to host a Chivas Whisky Tasting and Food Pairing event. The soiree proved to be successful indeed in providing a unique wining and dining experience for the intimate gathering. The event is a testament to both brands' commitment to providing upscale and sophisticated entertainment.
"Every time we partner with our friends at Benju, we know to expect a fantastic evening, and tonight was no different. Being able to bring Chivas Regal to Botswana, especially in this way, is a thrilling adventure for us. Our aim is to give our guests something unique and exciting, and this leading Scotch Whisky exemplifies exactly that," said Lansmore Masa Square General Manager, Rupert Elliott.
Atlegang Moloko of Chivas, and Rico Carlinsky, Lansmore Masa Square's renowned Executive Chef, commanded the food and drink pairing journey. Keen guests were taken through the flavour profiles of Chivas Regal 12, Chivas Extra, and Chivas 18 year old and 25 year old whiskies. Chef Rico prepared an equally flavourful and refined menu to accompany the beverages on tap. Whether they were veterans of the whisky game, or novices willing to learn and gain a further appreciation for the distilled spirit, all attendees were treated to an enjoyable evening.
Said Moloko of the whole affair, "It's always a pleasure engaging with and learning from our local market. Guiding everyone through our most revered whiskies is not only a joy, but also an opportunity to garner feedback from our guests regarding the tastes they enjoy most."
Known for its accolades and excellent quality, Chivas Regal is unsurprisingly popular amongst whisky lovers and alcohol connoisseurs alike. In 2013, the Chivas Regal 18 year, 21 year and 25 year whiskies were awarded Double Gold Medals by The San Francisco World Spirits Competition jury. In Botswana, Benju distributes Chivas through its relationship with French producer of distilled beverages, Pernod Ricard.
Remarked David Judd, Sales Manager at Benju, "What we aim to do is provide our customers with new and exciting experiences. Working with a product such as Chivas, a leading Scotch whisky with an enviable reputation, is a pleasure and a true reflection what our's and Lansmore's partnership aims to achieve."
Lansmore continues to show its dedication to setting the standards for the hospitality and entertainment sectors higher. Lansmore has played a significant role in redefining and refining Batswana's expectations in the gastronomic and lifestyle spaces to date. The Whisky Tasting is a testament to Lansmore's commitment to finding new and distinct ways of bringing life to the hospitality industry.