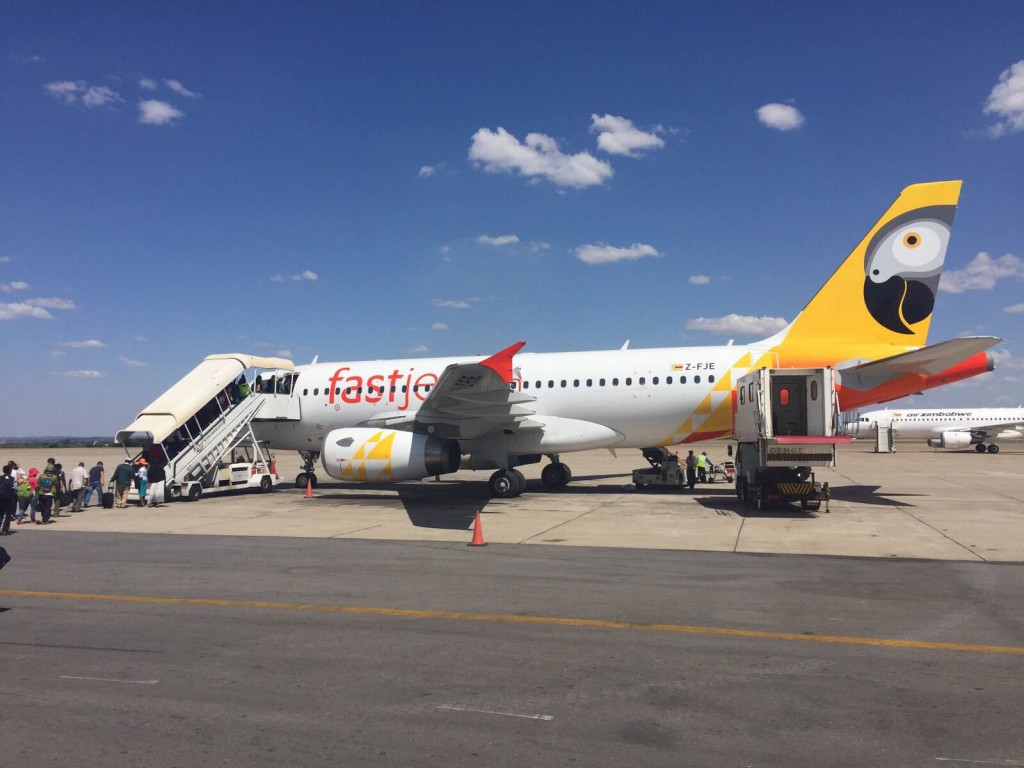 fastjet Zimbabwe's first flight between Harare and Victoria Falls has been launched, which marks the entry of new low-cost Zimbabwean airline. fastjet Zimbabwe's first flight departed Harare International Airport at 14h00 with dignitaries, government officials, media and local passengers on board. Upon arrival at Victoria Falls International Airport at 15h00, the flight was welcomed by the Mayor of Victoria Falls, Councillor Sifiso Mpofu, and honoured by a traditional water cannon salute.
The return flight from Victoria Falls landed in Harare to an official launch ceremony where the Minister Joram Gumbo, Minister of Transport and Infrastructure Development, was the guest of honour.
"The country needs bold new enterprises like fastjet Zimbabwe to assist the government to achieve its objective of growing the economy. The Ministry of Transport and Infrastructure Development looks forward to working with fastjet Zimbabwe as it grows its network of routes and flights within and from our beautiful country," said Gumbo.
 "fastjet Zimbabwe is a Zimbabwean airline established for the benefit of the country's citizens. It is a long-term strategic investment in the future of the our economy, in the future of our tourism industry, and in the ability of all Zimbabweans to travel by air domestically and internationally, both for business and leisure, at an affordable and fair price," continued Gumbo.
 fastjet Zimbabwe will initially fly between Harare and Victoria Falls three times a week on Wednesdays, Fridays, and Sundays. The flight will use fastjet Zimbabwe's modern Airbus A319 jet aircraft, with seating for up to 144 passengers. The low-cost airline expects to add more flights to Victoria Falls as demand for its safe, quick, affordable and on-time service increases.
To celebrate its launch, fastjet Zimbabwe has set all fares for flights between Victoria Falls and Harare in October and November 2015 at its cheapest rate of US$20 one way. This excludes airport and government taxes of US$18, which brings the total for an inclusive one way fare to US$38.
 "Very simply, our goal is to offer affordable air fares that empower more Zimbabweans to fly, whether it is for business, tourism or for visiting their family and friends," said Ed Lanca, Director of Flight Operations at fastjet Zimbabwe.
"We are immensely grateful to the visionary leadership in the Ministry of Transport and Infrastructure Development, the Civil Aviation Authority of Zimbabwe and other government departments for making this first flight possible – and the many flights that will follow it." said Lanca.
Lanca noted that fastjet Zimbabwe expects up to 40% of its passengers to have never flown before. In the past these passengers would have had to make use of long, uncomfortable and occasionally unreliable bus journeys, and they will now be able to enjoy the benefits of affordable, quick and safe air travel.
Elphas Ruzvidzo, a passenger on the first flight to Victoria Falls, although he had heard so much about the world-famous Falls, he had never visited there. "fastjet Zimbabwe made it possible today for me to see something with my own eyes that I thought only existed in photos – but I see now that the photos are only half as good as the real thing," he said.
Over the course of the next three years, fastjet Zimbabwe expects to invest in the region of US$15million and employ approximately 200 people directly, with hundreds more employed in secondary services such as fuel, catering, and cleaning supporting the airline.
The low-cost airline plans to expand rapidly both locally and across the African continent, creating a comprehensive network of international destinations to complement its domestic routes within Zimbabwe.
International destinations that fastjet Zimbabwe wishes to establish from Harare include South Africa, Kenya, Zambia, Democratic Republic of the Congo, Botswana and Malawi, offering Zimbabwean citizens and visitors greater choice and affordability when they are travelling internationally.
"fastjet Zimbabwe wants to bring Africa to Zimbabwe and Zimbabwe to Africa. Affordable air travel is key to Zimbabwe's economic growth, particularly in the business and tourism sectors. We have worked closely with government and civil aviation stakeholders to bring low-cost air travel to Zimbabwe for this very reason," said Lanca.
Lanca said that the majority of regional and international airline routes out of Zimbabwe are serviced by non- Zimbabwean airlines. Many of these routes have no competition, leading to monopolies, which in turn leads to excessive air fares. These excessive and unjustified airfares prevent Zimbabweans from being able to fly.
"fastjet Zimbabwe will introduce more choice into international air travel from Zimbabwe, breaking down the monopolies that exist on certain routes, and introducing better flights and cheaper fares that will no longer mean the majority of Zimbabweans are excluded from enjoying the convenience and timesaving benefits of airline travel." said Lanca.
fastjet Zimbabwe emphasised that it would continue to work closely with the Zimbabwean government in its ongoing investment plans, collaborating with all parties concerned to build an airline that would create jobs, develop the aviation sector in the country, and have a significant positive impact on the growth of the Zimbabwe economy.
 "We have a shared goal of increasing the number of business and tourism travellers into Zimbabwe. We understand it is a collective effort by all stakeholders concerned and we are committed to our responsibility of assisting to build the positive image of Zimbabwe." concluded Lanca.