As part of the Shared Growth strategy, Barclays Bank of Botswana is committed to supporting the celebration and preservation of Botswana's arts and culture.  For the third consecutive year, the Bank is sponsoring the Kuru Dance Festival. On Monday, 10 July 2017, Barclays Bank of Botswana Managing Director, Reinette van der Merwe, officially handed over a P300,000 contribution to the Kuru Development Trust, in the presence of Kuru Trust members and the media.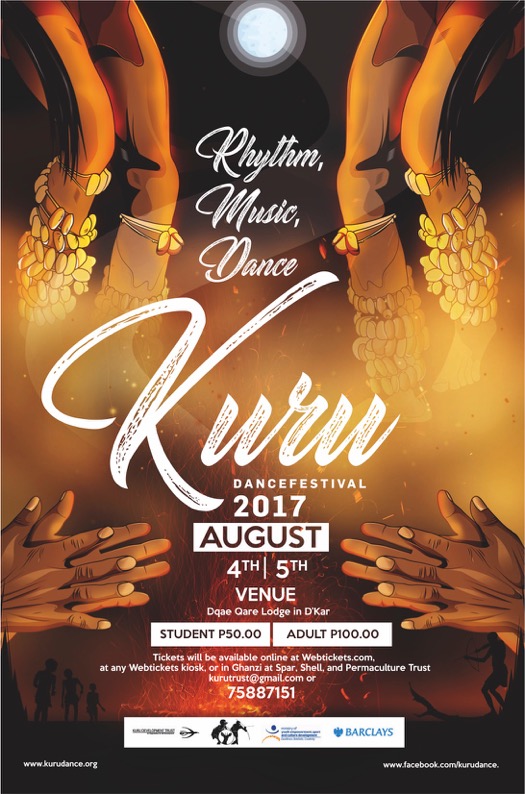 The Kuru Dance Festival is taking place from 4-5 August 2017 with the main event taking place Saturday, 4 August 2017, at Dqae Qare Lodge in D'Kar, which is approximately 20km from Ghanzi. The festival marks and seeks to commemorate the full moon, which is significant in the culture of the San, believing that during this period they are able to heal the sick through the power they receive from song and dance.
"It continues to be a great pleasure to partner with Kuru Development Trust for this initiative.  The annual celebration has evidently become a renowned one in the Botswana calendar, and has continued to draw the attention of local and international crowds. The Festival is significant because it draws on the participation of communities from a variety of ethnic groups in our Botswana culture and attracts business to the Dqae and wider Ghanzi area." said Reinette.
In 2016, the festival was officially included in the National Event Calendar, indicating its increasing popularity and renowned standing. This year, Kuru Dance Festival has enriched the diversity of its artist line-up to include 12 San Traditional dance groups, 5 non-San Dance groups and 3 International guest groups. The 2017 festival will also exhibit stalls for cultural products, including Veld fruits, craft work and more.
"Our sponsorship of the Festival aligns perfectly with our strategic ambition to foster growth as a business and in communities. We support the conservation of our dynamic heritage, as it encourages community trade and can ultimately drive development. We look forward to engaging our stakeholders in the beautiful and historic Ghanzi district during the coming festival," Reinette concluded.