Yet another man made catastrophe is landing on Botswana shores soon. This October 07, 2017 courtesy of Spin-city Botswana and Emergency Assist Motor Club, an earthquake is coming to Botswana. Fairground Spincity Palace is the place to be and for the first time in the spinning motorsport industry of Botswana we will have two Ben 10 spinners, side by side. When these teenage spinners meet, havoc ensures.
It will be a dog eat dog battle when Team Austin from Mafikeng faces Team BGB from Pretoria live in Gaborone. Austin who is a highly respected and known spinner in Botswana and is known for his dare devil stunts, will this time face his perennial rival, Bareng Mamapane from Pretoria. It is Bareng's first trip into Botswana and wishes to impress the Botswana crowd. In other spin arenas of South Africa, when the two face each other, the spinning arena gets some serious damage.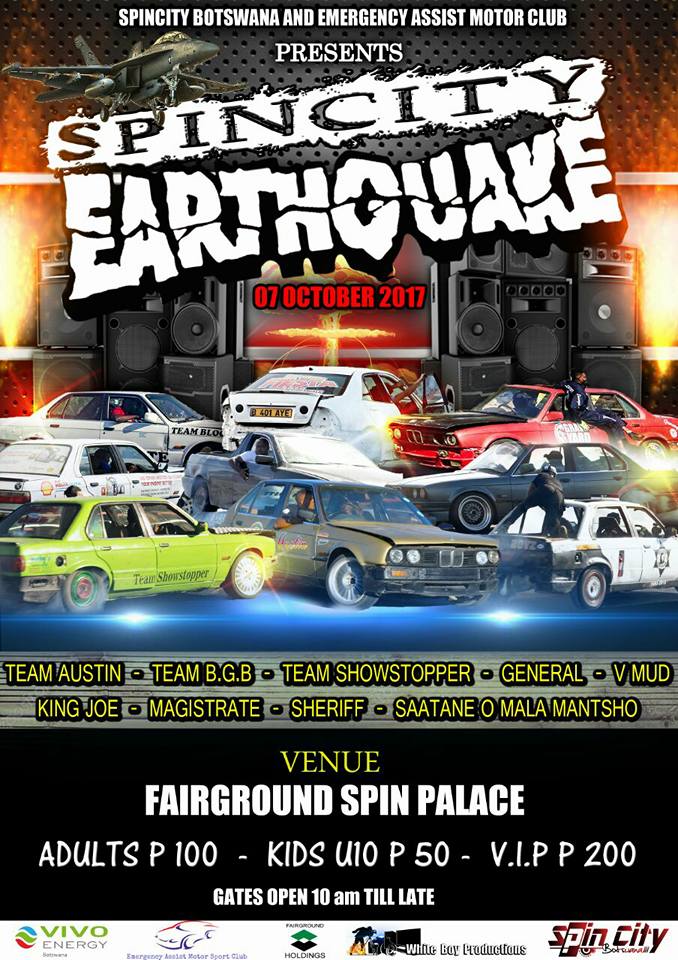 Not to be forgotten and over looked is Nazzer of Team Showstoppers, the first international spinner to take our vice president, HE Masisi on a spinning car. He holds no prisoners, he spins a car and guarantees a show anytime he gets invited. On the local scene, the local spinners are on top form. The General missed last years show which was stolen by Team Austin and is hell bound to show that he calls the shots in Botswana, we therefore await to see how the local legend will fair with the legend killer.
Another man on top form is Kagiso Binda aka the Magistrate, when he is on the field, he will drop a gear after gear and make sure spincity fans are left mesmerized. His fan base is growing daily. Another man of the moment who is proudly sponsored by VIVO Energy Botswana through Shell Helix Ultra, Mr Thuso Mudongo commonly known as VMUD sets the spinning arenas lit. Since he started using Shell Lubricants, he never disappoints.
Thuto Rasegojwa aka Sherriff, is coming out all guns blazing to maintain his position as the most celebrated spinner in Botswana after going as far as being 2nd position in the Ignition TV Burn Out Kings competition of 2017. How ever, all the above said, a new baby is born. All the way from the North of Botswana, King Joe is back under new management, new branding and new direction. He says North Side crew has been launched to give dignity to the sport. They will bring a corporate feel to the game and the Earthquake is their first stop.
Lastly, from an organizers perspective, we are ready to deliver the mandate, An Earthquake of a spinning show!!!To accomplish this, our partnership with Vivo energy comes in at the nick of time. High revving engines need a performance oil that is of top quality.
That is why all cars will use Shell fuel on the day as well as use Shell Helix oil because no other motor oil cleans your engine better. Emergency Assist will be onsite for any accidents which may happen so will Botswana Police to ensure public safety and law enforcement. Lastly kids will get the treat of a life time, as spinners do their thing, they will have access to jumping castles and face painting as well as time with mascots and clowns. This is a show for the people, by Spincity people and it will start from 10am till 6pm. Thus said, we look forward to seeing you there, remember no one else in Botswana promotes motorsport than #shellspincity….Ticket prices fare from P100 Normal, P200 VIP and P50 kids.