After its demise four years ago, the sport of spinning is once again growing tremendously in Botswana. To celebrate this milestone, event pioneers and leaders, Spin-city Botswana and its partner club, Emergency Assist Motor club will be celebrating its third year of operation by giving back to its fans with a Blockbuster event dubbed …..'Bringing back the Legends' We are bringing back the first international spinners ever to grace Botswana. We will be remembering the origins of this sport with the spinning legends. We are talking major throw backs here!!!When these men meet in one place, hell will break loose, guaranteed!!! This is a show hosted 7 years back in time.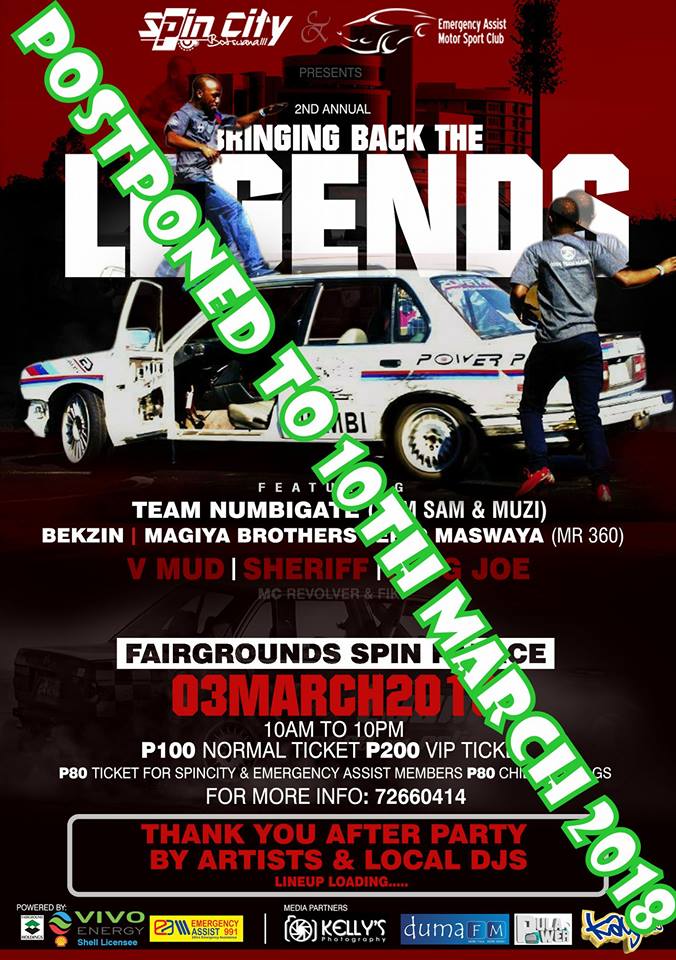 On 10th March 2018, all roads lead to Fairground Rear Parking Space popularly known as Spin city Palace which will be the hub of car spinning action once again. Eight (8) top spinners both locally and internationally will be fighting it out to show their prowess and give high standards of this event that is being given high ratings as one of the biggest in Botswana.  
First on the list is the biggest ace card, Team Numbi, was last seen in Botswana seven years ago. They are arguably the biggest and most celebrated car spinning team in SA today. With the brothers SAM SAM and Muzi, they won the "SOUTH AFRICAN SO YOU THINK YOU CAN SPIN COMPETITION" in 2017 and are coming to dish talent in Botswana on the 10th of March 2018. Unfortunately the only man who can match their pace locally, Sexton the General was booked for another international event earlier in the year and won't be there. Team Numbi will travel 900km from Mpumalanga to honour this appointment for their Botswana Fans.  Other major SA spinner are Jeff James the four time SA spinning champion, Magiya Ndlovu of Magiya Brothers and Bekzin who pilots a ferocious V8. Locally, the boys from the North AKA North side crew, will be on top form, V Mud of Spin masters is ready and of-course The Sherriff is evergreen for any event. Some new players on the local front such at Arbi and Given Stephen of Ghetto Spin Warriors are ready to learn from the legends
These crews guarantee Batswana the delivery of a show to remember as per mandated by Spincity Motor Events Management. The adrenaline pumping action kicks off from 10 am till 6pm. P100 is advance bought at the entrance or P200 is for VIP Seating.
All in all, this is a spectacle, the brand promises nothing but the best show yet of 2018. We have looked at all the flaws of the previous event and like our motto is, Batswana have called for a show and we shall deliver a memorable show. To put icing on the whole event, we wish to confirm to Batswana that for the first time, a car spinning event will get post event mileage courtesy of Channel 189, Ignition TV on DSTV. This is how Spin-city and the sport continue evolving and bringing status to the sport.