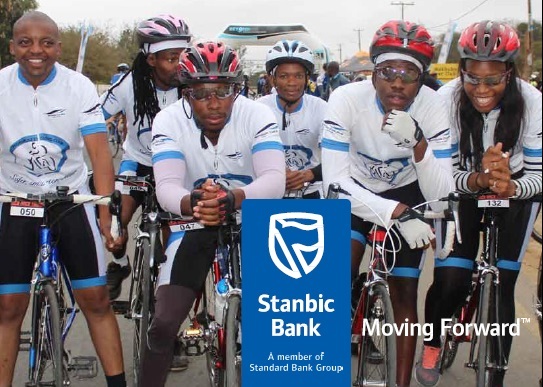 Stanbic Bank Botswana has reaffirmed its support for the Morupule Coal Mine Cycling Club by yet again sponsoring the annual challenge. Pledging its increased dedication to the hallmark sporting event, the Bank this year ups its sponsorship to a total of P200,000.00. The Morupule Coal Mine Cycle Challenge, to be held on the 26th of October 2014, is set to be even more spectacular this year as it finds its new home in the town of Palapye.
The Morupule Coal Mine Cycling Club was formed in 2009 with the aim to improve the level of fitness and wellbeing of employees of Morupule Coal Mine and the surrounding communities, as well as help raise funds to assist less fortunate members of the local community through
various charity initiatives.
"We are thrilled to see Stanbic Bank Botswana generously increase their sponsorship from P75,000.00 to P200,000.00 working towards an even greater race to benefit the community. This year's race is categorised into three different distances being the 100km, 50km and 30 km, and we look forward to yet another successful event with the support of our cyclists, our sponsors, and our incredible team of organisers," commented Robson Mugomba of the Morupule Coal Mine Cycling Club.
The Club is expecting up to 100 cyclists for this year's edition of the Challenge and will begin at the Majestic Five Hotel in Palapye, going down the B140 Road towards the Martins Drift border post. The Challenge will eventually conclude by turning back towards Majestic
Five Hotel.
"Through last year's sponsorship, we pledged to work towards a long term, sustainable effort, and it is with this in mind that our sponsorship grows stronger and forms part of a three year commitment. We look forward to engaging with cyclists in and outside of Botswana and indeed the incredible Palapye community and encourage Batswana to come out in numbers to show their support"! concluded Omphemetse Dube, Stanbic Bank Botswana, Client Coverage Manager – Mining & Metals.